From the pangolin to the flying fox and from the Malayan weasel to the Sumatran tiger, Restorasi Ekosistem Riau (RER) is home to an abundance of spectacular wildlife. In this article, we take a closer look at some of the mammals that rely on RER for survival, explore some fun facts, and discover how these animals contribute to a healthy and functioning ecosystem.
RER covers an area twice the size of Singapore. Spanning 150,693 hectares on the Kampar Peninsula and Padang Island in Riau, this landscape is home to a total of 846 plant and animal species, including 78 different kinds of mammals. These creatures come in all shapes and sizes, and each one plays a unique role in maintaining the natural balance of the forest. Let's take a closer look at some of them:
Creatures Great and Small: Seven Mammals Living in RER
(1) Flying Fox
One of the biggest bats in the world, the flying fox (Pteropus vampyrus) has a wingspan of 1.5 meters and can weigh up to 1.1 kg. In RER, these magnificent fruit-eating mammals can usually be found at dusk on the shores of Lake Tasik Lakar, where they roost in trees at the water's edge.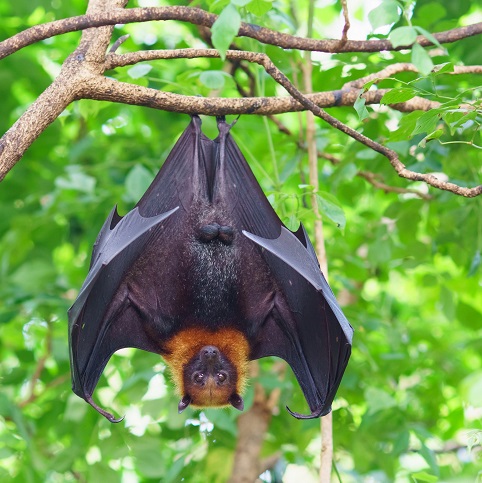 THANKS TO THEIR GIANT BODY, LARGE FLYING FOXES CAN CARRY UP TO 200 GRAMS OF FOOD AT A TIME AND EAT HALF OF THEIR BODY WEIGHT IN FRUIT.
Role in the RER ecosystem: Pollinator. Flying foxes play a vital role in pollinating each of the trees and plants they visit. Seeds from the fruits they eat are also distributed in their droppings, helping grow the next generation of trees and keeping the forest healthy.
Also known as the Kharza, this little mammal lives in mixed forests and lowland swamps. RER is home to a thriving population of marten, who patrol their home ranges (spanning 10-20 km) each and every day. Skilled hunters and omnivores, they will catch rats, birds, rabbits, lizards, and even snakes. But given the choice, they prefer to munch on fruit, nuts, and seeds.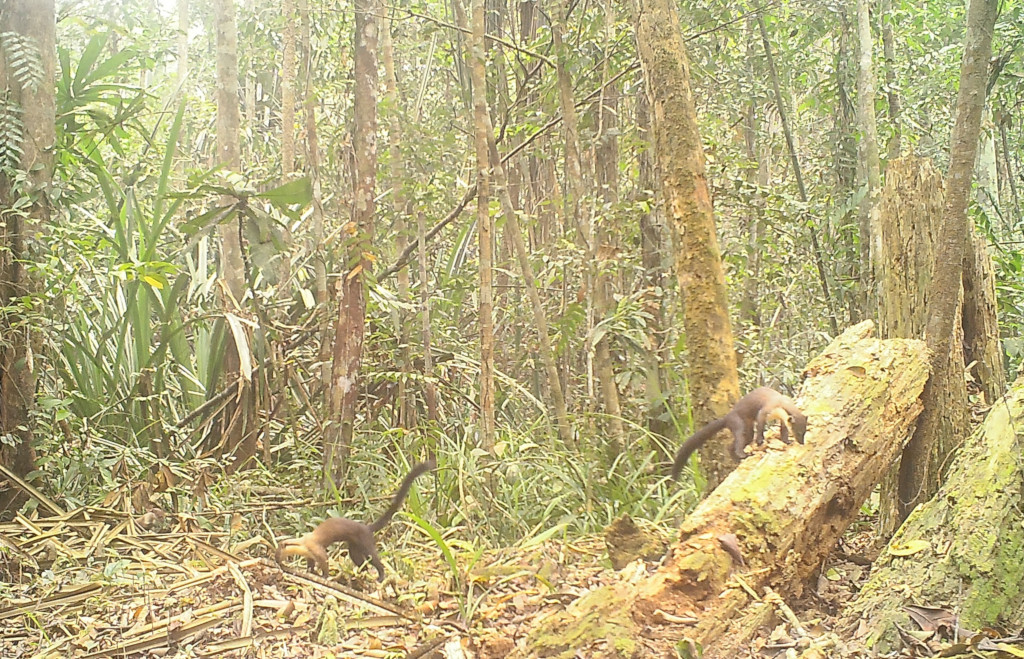 YELLOW-THROATED MARTEN, THE LARGEST MARTEN IN THE OLD WORLD, WITH THE TAIL MAKING UP MORE THAN HALF ITS LENGTH.
Role in the RER ecosystem: Planter. As martens travel far and wide, they help carry seeds to every corner of the forest. Deposited in a little pile of fertilizer, these seeds help secure the long-term future of the forest.
(3) Squirrels
There are 14 species of squirrel living on the Kampar Peninsula, many of which are classed as Near Threatened (NT) and protected by Indonesian law. These little critters have long been targeted by poachers and the pet trade, causing a steady decline in numbers. Now, with RER as their sanctuary, squirrel populations are bouncing back.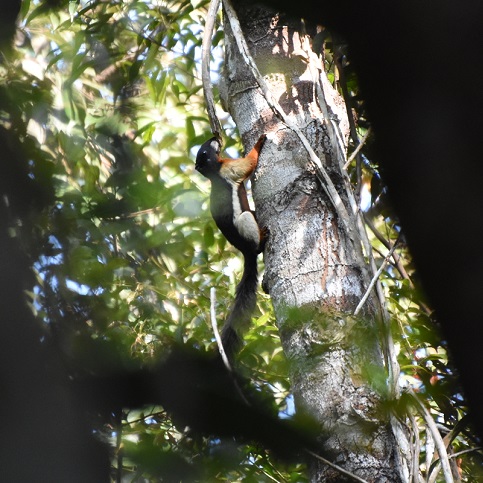 THERE ARE 14 SPECIES OF SQUIRREL LIVING ON THE KAMPAR PENINSULA, MANY OF WHICH ARE CLASSED AS NEAR THREATENED (NT) AND PROTECTED BY INDONESIAN LAW.
Role in the RER ecosystem: Courier. Squirrels love to eat mushrooms. And mushroom spores love nothing better than hitching a ride in the fur of their forest companions. This arboreal courier service is vital to ecosystem health, delivering nutrients back to the soil and replenishing root systems.
(4) Southern Pig-tailed Macaque
One of 9 mammals in RER listed as Vulnerable (VU), southern pig-tailed macaques (Macaca nemestrina) are named for their distinctive curly tails. Like their namesakes, they enjoy snuffling through the undergrowth in search of treats. Unlike most other monkeys, these macaques are also excellent swimmers, and can often be seen diving for seeds – or for sheer enjoyment – in the rivers and lakes of RER.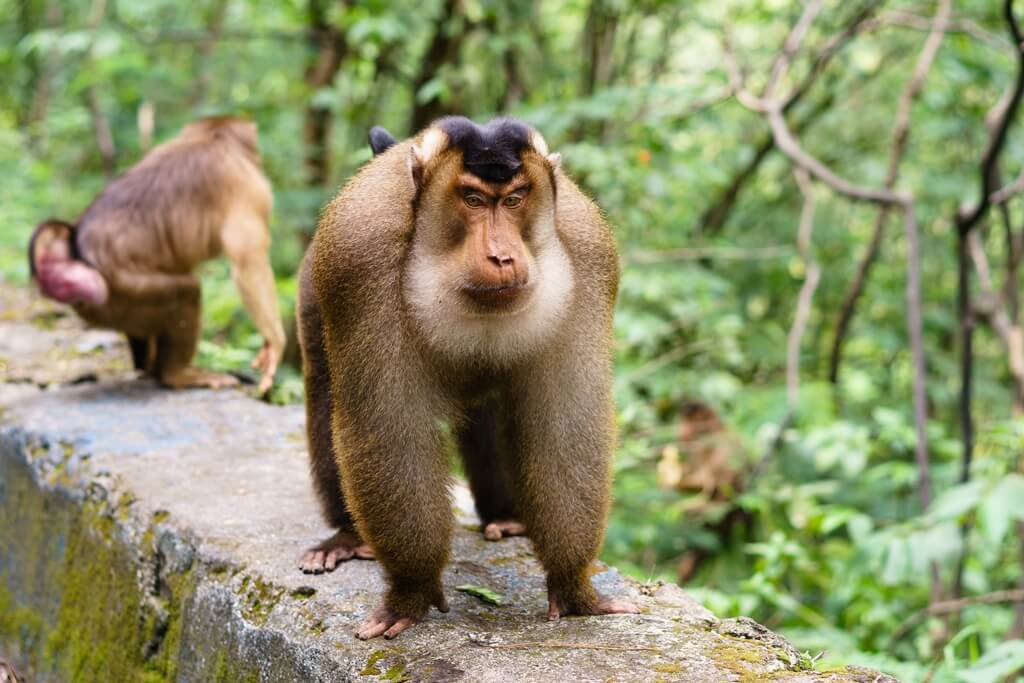 PIG-TAILED MACAQUES GET THEIR NAMES FROM THEIR TAILS, WHICH STICK UP IN THE AIR AND ARE THE SAME SIZE AND SHAPE AS PIGS' TAILS.
Role in the RER ecosystem: Gardener. With their varied diets and a tendency to roam in search of food, macaques help keep flora and fauna populations in check by grazing on vegetation and sniffing out invertebrates. This supports the natural balance of the forest.
(5) Pangolin
Pangolins are weird and wonderful. The world's only scaly mammal, they can roll up like armadillos, stink like skunks, carry their babies around on their tails, and have a tongue that can measure up to 40 cm in length – that's a third of their body length! Sadly, they are also the world's most trafficked animal. That makes RER an important refuge for Endangered (EN) pangolins.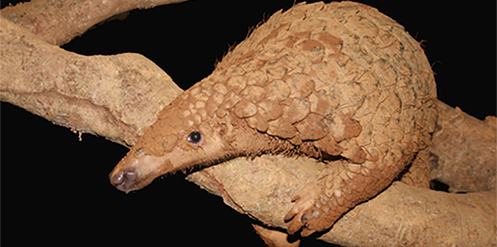 KNOWN TO BE TIMID AND NOCTURNAL, THE SUNDA PANGOLIN IS LARGELY SOLITARY.
Role in the RER ecosystem: Guardian. Pangolins trundle around the forest floor in search of tasty insects (a single pangolin can eat up to 70 million ants and termites in a year!). As termites are the enemy of trees, pangolins provide an essential forest defense service.
(6) Malayan Weasel
The Malayan weasel (Mustela nudipes) was only identified recently, making it the newest addition to the RER mammal family. With its golden fur and sleek body shape, this is also one of the most elegant and eye-catching creatures in the forest. Little is known about them, so RER's team of experts at the Eco-Research Camp will be busy studying them in the months ahead.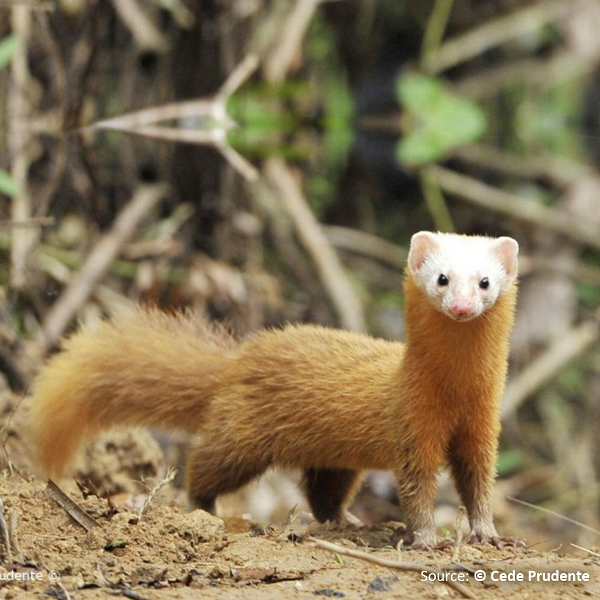 THE MALAY WEASEL'S STRIKING GOLDEN COLOUR AND PALE HEAD AND TAIL SETS IT APART FROM OTHER SPECIES OF WEASEL.
Role in the RER ecosystem: Pest control. Small, athletic and veracious hunters, weasels play a key role in the ecosystem. They tend to hunt the most abundant small prey, which helps keeps numbers in check and supports the overall biodiversity of the forest.
(7) Sumatran Tiger
RER is one of the last remaining territories for Indonesia's most spectacular mammal. Due to a combination of habitat loss and hunting, the Sumatran tiger is Critically Endangered (CR) – there are fewer than 400 of these amazing cats left in the wild. With every fleeting glimpse of them in camera traps on the Kampar peninsula, hope is restored that tigers will continue to burn bright in the jungles of Riau.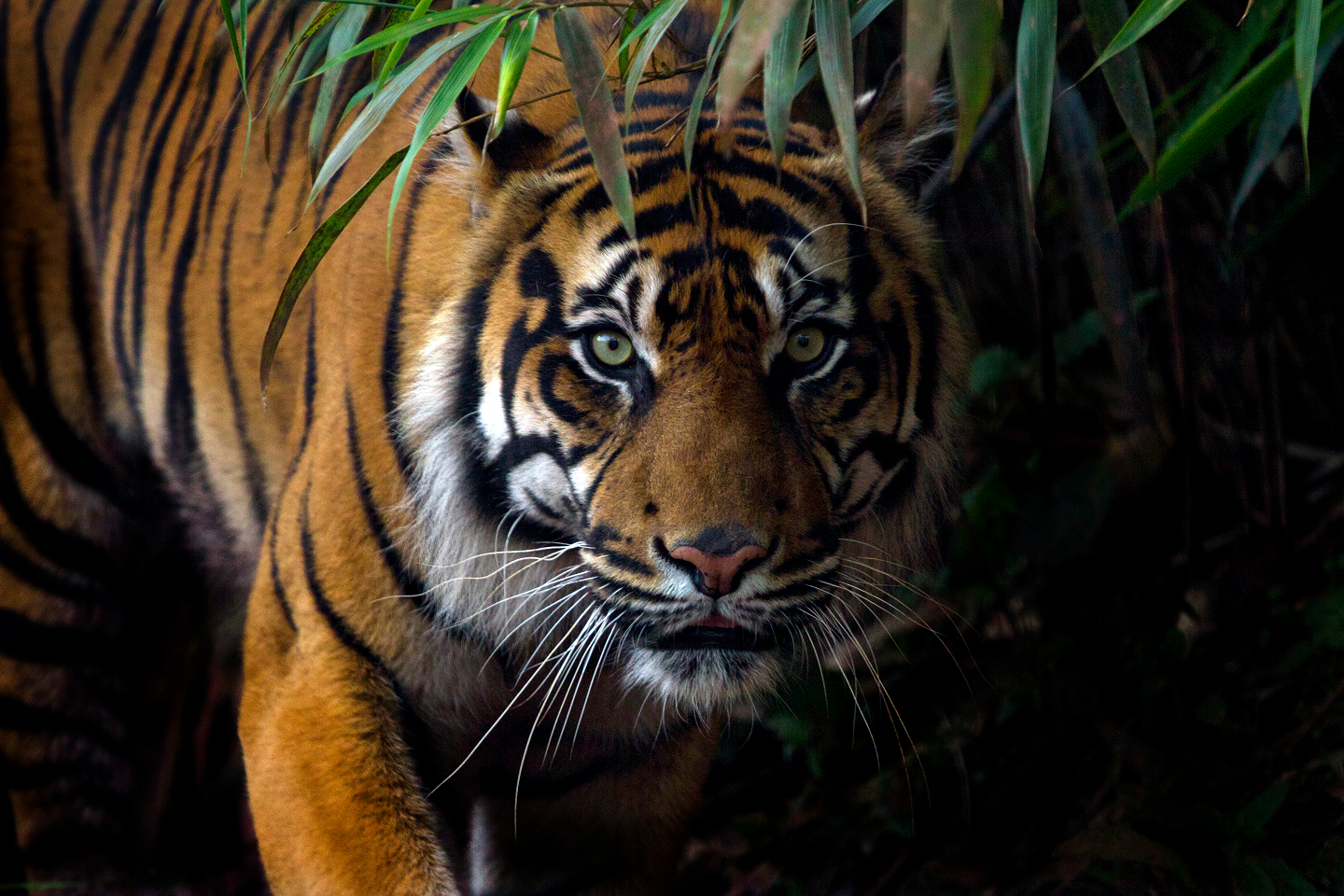 THE STRIPES ON TIGERS ARE JUST LIKE HUMAN FINGERPRINTS, AND NO TWO TIGERS HAVE THE SAME STRIPES.
Role in the RER ecosystem: Apex predator. The top predator keeps its various prey species at a controlled level, so that none become too dominant. This impacts the whole ecosystem, from the smallest animals to the mightiest trees. Lions may be the king of the jungle, but tigers are the heart and soul of a forest.
Tangled Web of Life: Mammals and the Forest
Each of RER's 78 mammal species contribute to ecosystem health. Carnivores keep prey animal populations in check, which in turn protects plants and trees. Small mammals like bats and squirrels are pollinators and dispersers of fruits. Rodents, pangolins and monkeys hoover up millions of insects.
Many of these animals are endangered. They find sanctuary in the RER landscape, and the forest benefits from the ecosystem services they provide in return. But there's one more mammal in RER that we haven't mentioned yet: Us.
From pollination and pest control to carbon storage, food and livelihoods, people have plenty of reasons to be thankful for a healthy forest. We're just one of many mammals who could not live without it. Like our wild cousins, we too can play our part in its conservation.
To find out more about biodiversity in RER and the activities contributing to ecosystem health, explore the Eco-Research Camp.