The Kampar Peninsula
This important landscape is bordered to the south by the Kampar river and to the north by the Siak river and Selat Panjang. To the east these two rivers join together, creating the wedge-shaped peninsula that is referred to as the Kampar Peninsula. The area's western boundary is where the peat deposits end, and mineral soils begin, and the land rises in elevation into the foothills of the Barisan mountain range. The city of Pekanbaru, the Capital of Riau province, is situated along this western boundary. To the east of the peninsula are large indistinct islands, which are part of a fragmented coastal deltaic formation.
The peninsula is dominated by peat swamp forests, extending some 70 kilometers north-south at its widest to the west, and 110 kilometers west-east from the dryland western boundary to the meeting of the Kampar and Siak rivers. Within this area are two peat domes, roughly centrally positioned, and several lakes. The largest lake is 8-kilometer-long and 2 kilometers wide. From these lakes, five meandering rivers flow away from the centre of the peninsula to Selat Panjang in the north, and the Kampar river to the south. These are the major river systems of the Kampar Peninsula. There are numerous smaller water channels also flowing off the raised peat deposits, but most are small overgrown channels, non-navigable and difficult to discern on maps.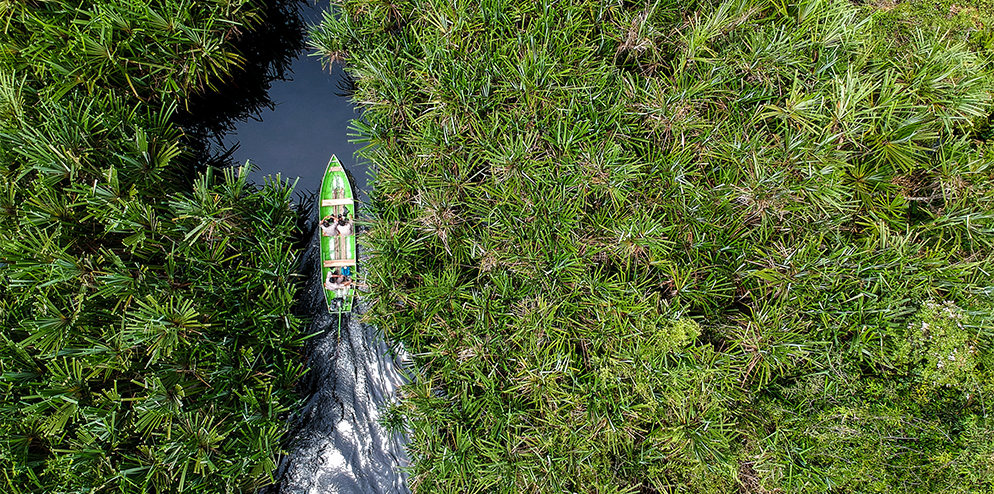 The largest lake is 8-kilometer-long and 2 kilometers wide.
Some of the larger rivers have natural and human induced forest openings where water accumulates during high rainfall periods. The openings were caused by vegetation removal from past illegal loggers and more recently fires used by fisherman to improve access. The openings along these rivers create unique habitats and have contributed to the species diversity of the peninsula over time.
There are four protected areas within the peninsula: three Game Reserves (Tasik Belat, Tasik Metas, Tasik Serkap) and Zamrud National Park, which together total 45,000 hectares. The remaining peat swamp forests on the Kampar peninsula are virtually enclosed by a ring of fibre plantations (primarily Acacia crassicarpa).