Have you ever heard about or seen this animal? Do you know that this animal is the world's most trafficked animal? To celebrate World Pangolin Day, let's learn more about this shy animal!
1. The word 'pangolin' means 'roller'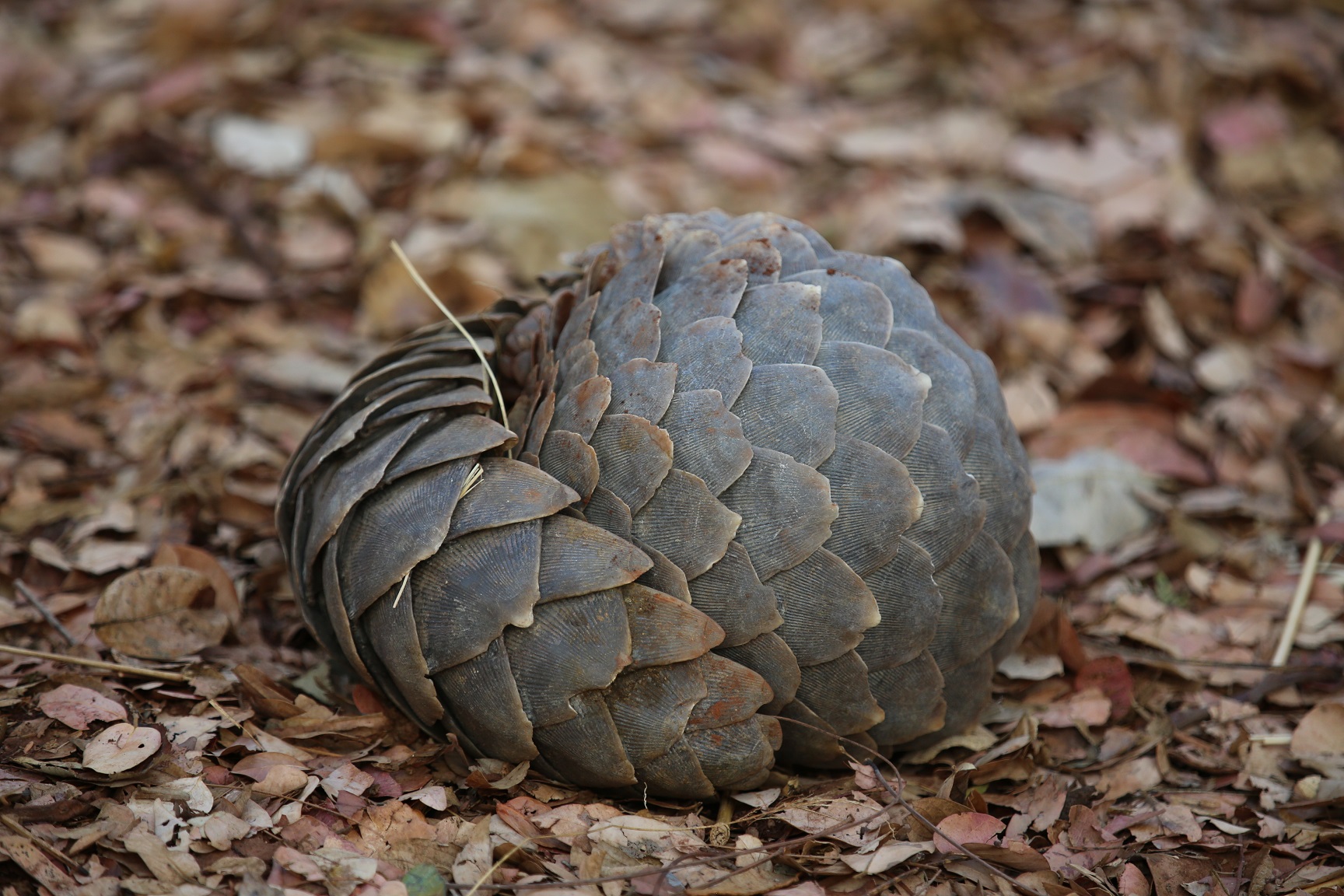 THE WORD "PANGOLIN" IS DERIVED FROM MALAYAN WORD "PENGGULUNG", WHICH MEANS "ROLLER"
Pangolin is the name for all animals under the order Pholidota. The Indonesian name Trenggiling came from the Malay language that means "something that rolls". The meaning is related to one of the defense systems of this nocturnal animal that enables it to roll like a ball.
2. Eight Species of Pangolin are Found in Africa and Asia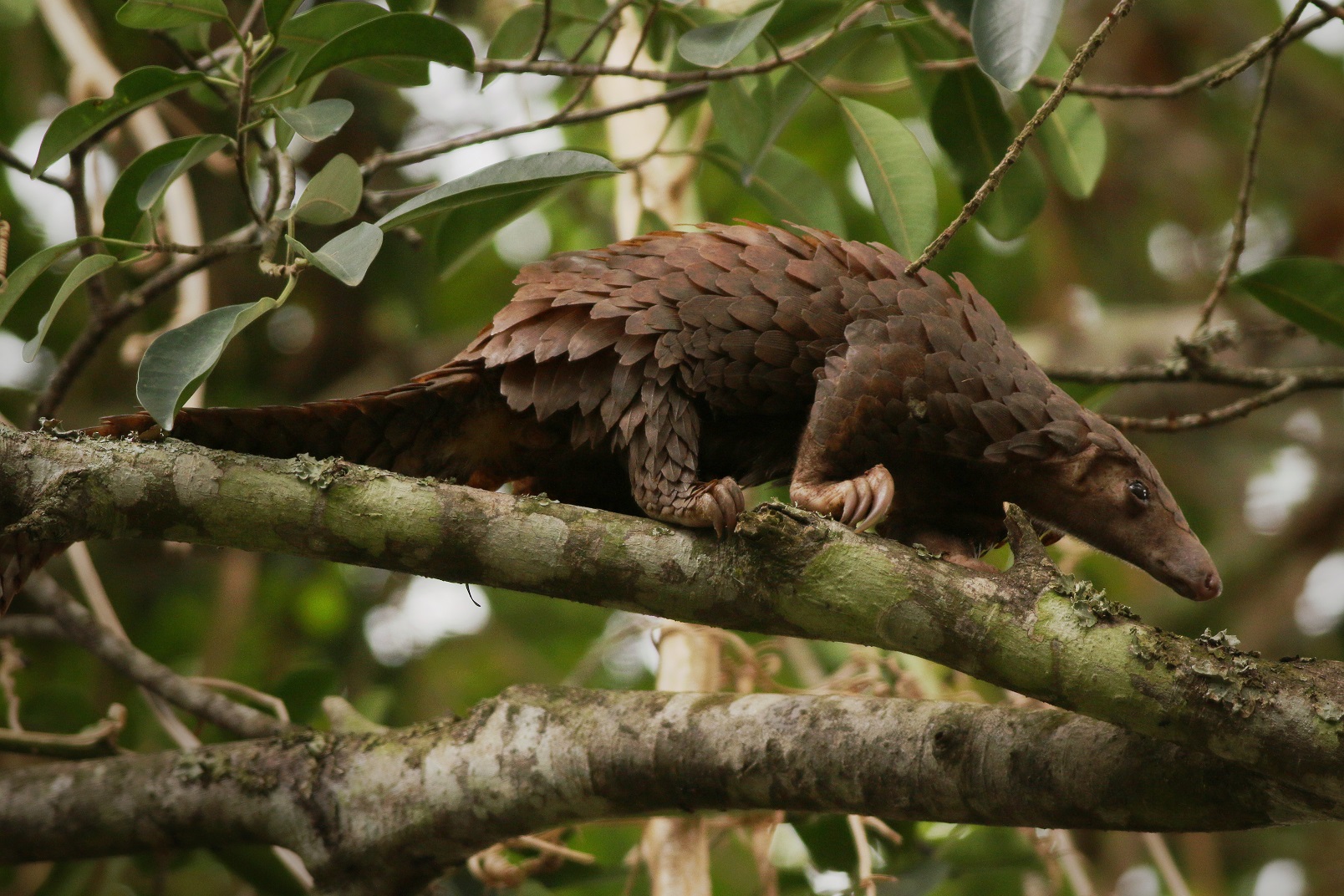 THERE ARE EIGHT SPECIES OF PANGOLINS IN THE WORLD: FOUR IN AFRICA AND FOUR IN ASIA
The pangolin is not widely recognized outside the Asian and African continents. It is because there are only eight species of pangolin, four of them found in Asia and the other four live in Africa. Below is the list of the eight species:
• Chinese Pangolin (Manis pentadactyla)
• Indian Pangolin (Manis crassicaudata)
• Philippine Pangolin (Manis culionensis)
• Sunda Pangolin (Manis javanica)
• Black-Bellied Tree-Pangolin (Phataginus tetradactyla)
• Giant-ground Pangolin (Smutsia gigantea)
• Ground Pangolin (Smutsia temminckii)
• White-Bellied Tree-Pangolin (Phataginus tricuspis)
Java, Kalimantan, and Sumatra such as the Kampar Peninsula are native habitat for the Sunda Pangolin. The Sundanese call them peusing. Each species has its own specific features. The average length of a pangolin is about 30 to 50 cm. The biggest species is the Giant-ground Pangolin that can grow to about 75-80 cm in length and weigh up to 33 kilograms.
Each of the species has its own habitat. Some are skilled climbers and use their tails to grab hold of branches. Arboreal pangolins build nests on hollow trees or tree branches. Others tend to live on the ground and dig burrows up to three meters long.
3. The World's Only Scaly Mammal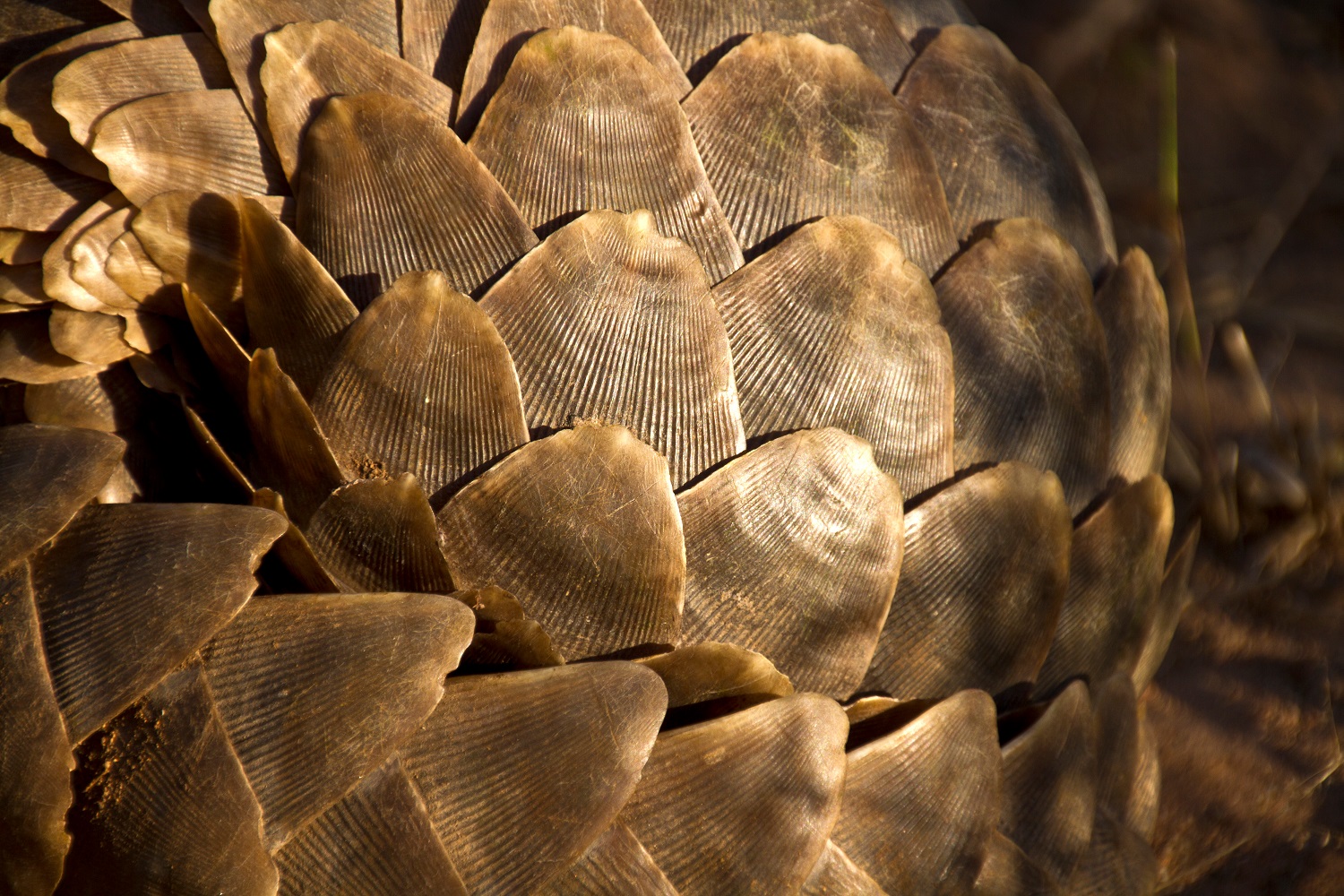 PANGOLIN SCALES ARE MADE OF KERATIN, THE SAME MATERIAL THAT MAKES UP HUMAN FINGERNAILS
Pangolins are the world's only scaly mammals. They are covered in tough, overlapping scales that make up 20 percent of their total weight.
Their scales are made of keratin, the same material that makes up human hair and fingernails. Keratin is a protein that is also found in rhino horns and bear claws.
4. Pangolins Carry Their Offsprings on Their Tails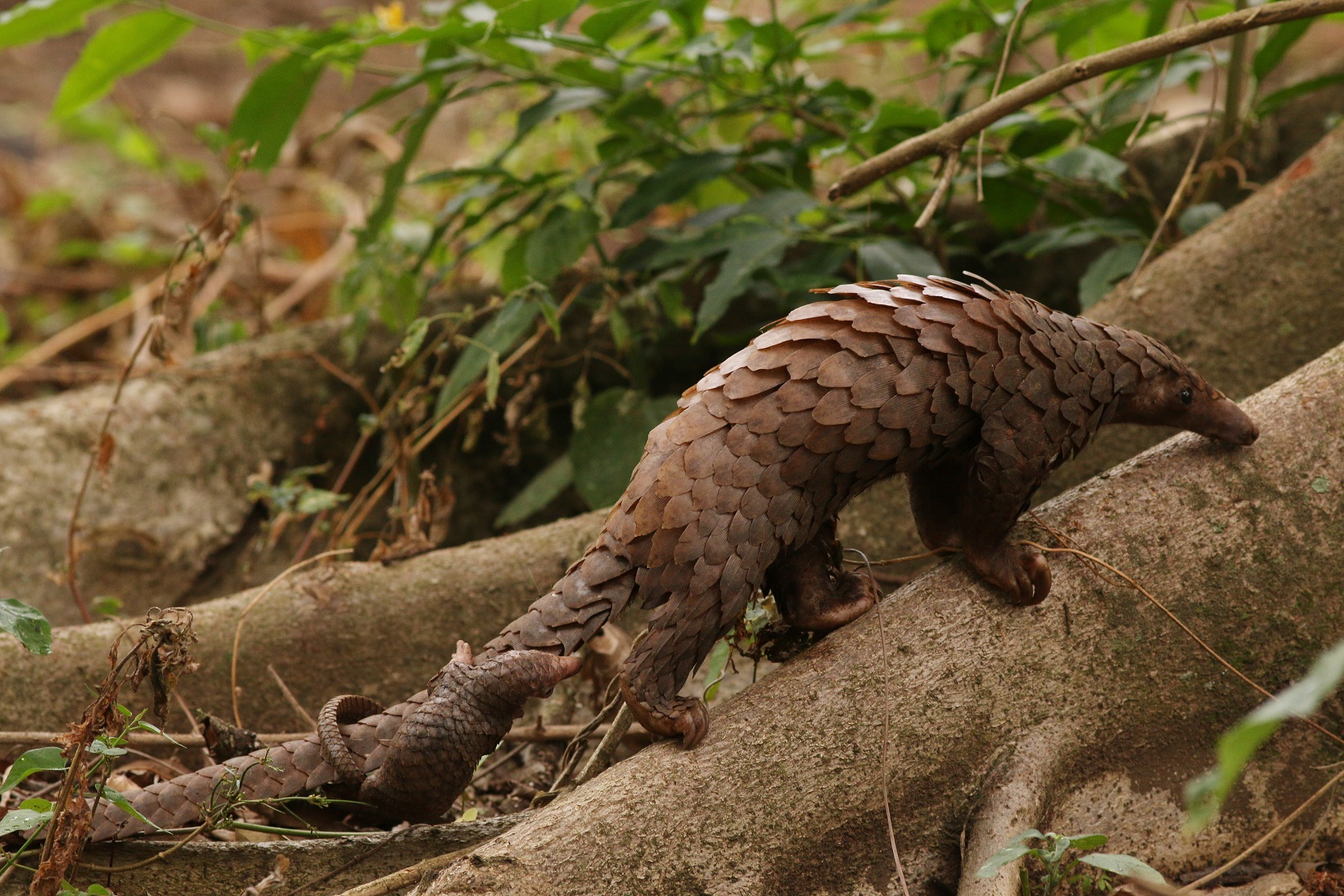 BABY PANGOLIN RIDE ON ITS MOTHER'S TAIL
Although they are covered with scales, pangolins "carry" their offsprings on their tail as they forage for food. At birth, baby pangolin has soft and pale scales that will eventually harden after two days and continue to develop until it reaches adolescence.
A pangolin mother will take care of her baby in the nest for about three to four months before weaning it. The mother will protectively roll around its baby when sleeping or threatened.
5. Rolling Like an Armadillo, Smelling Like a Skunk
Every time a pangolin feels threatened, it will cover its head with its front legs and curl into a ball, just like an armadillo, as protection against predators.
Another defense mechanism is its ability to release a stinky fluid from a gland at the base of their tails, just like a skunk.
6. A very Long Tongue
Pangolins have a very long tongue that can measure up to a third of their entire body length. Pangolins use their tongues to pick up food, as their saliva is sticky, enabling them to feed on large amounts of ants.
When not in use, the tongue is 'stored' in its chest cavity that is attached to its abdominal walls. They are able to do this because the tongue is not attached to bones, but rather located in the chest cavity.
To reach for food, a pangolin will stick out its tongue to about 40 cm with a diameter of 0.5 cm.
7. Can Eat 70 Million Ants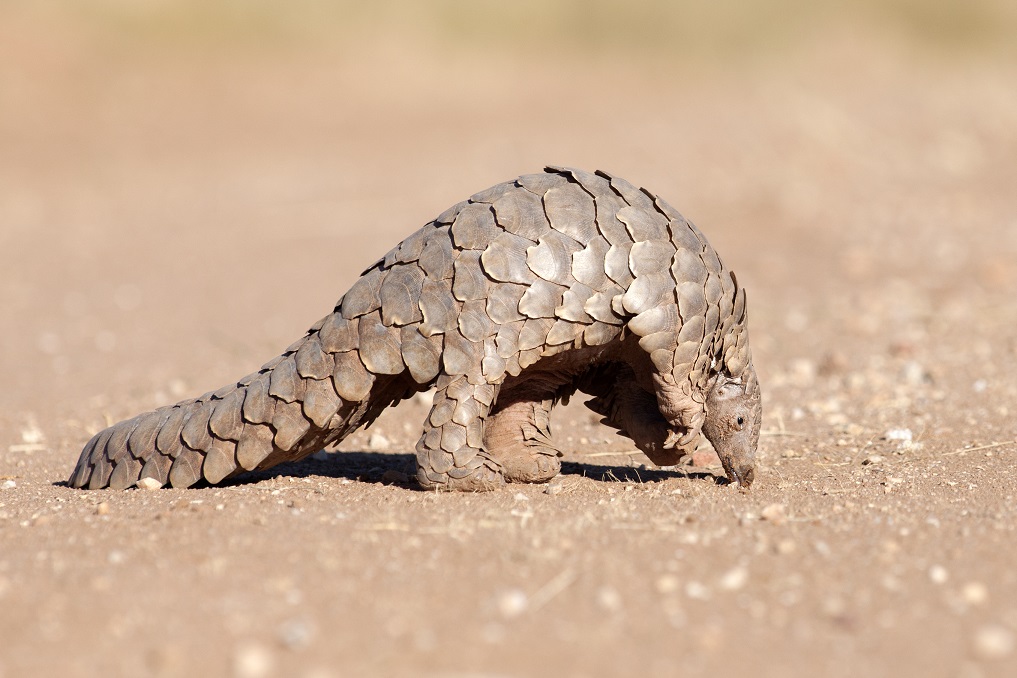 PANGOLINS CAN CONSUME up to 70 MILLION ANTS PER YEAR
Pangolins are also called scaly anteaters, because of their ability to eat huge amounts of ants and termites. As an insectivore, pangolin largely feeds on ants.
They can detect ant nests or termite mounds with their strong sense of smell, although they have poor vision.
In general, a pangolin can eat up to 200,000 ants and termites per day. This means it is able to consume up to 70 million insects per year.
While eating, pangolin will seal its nostrils and ears to block insects from coming through. Its thick eyelids also protect them from ant bites.
8. The Most Trafficked Mammal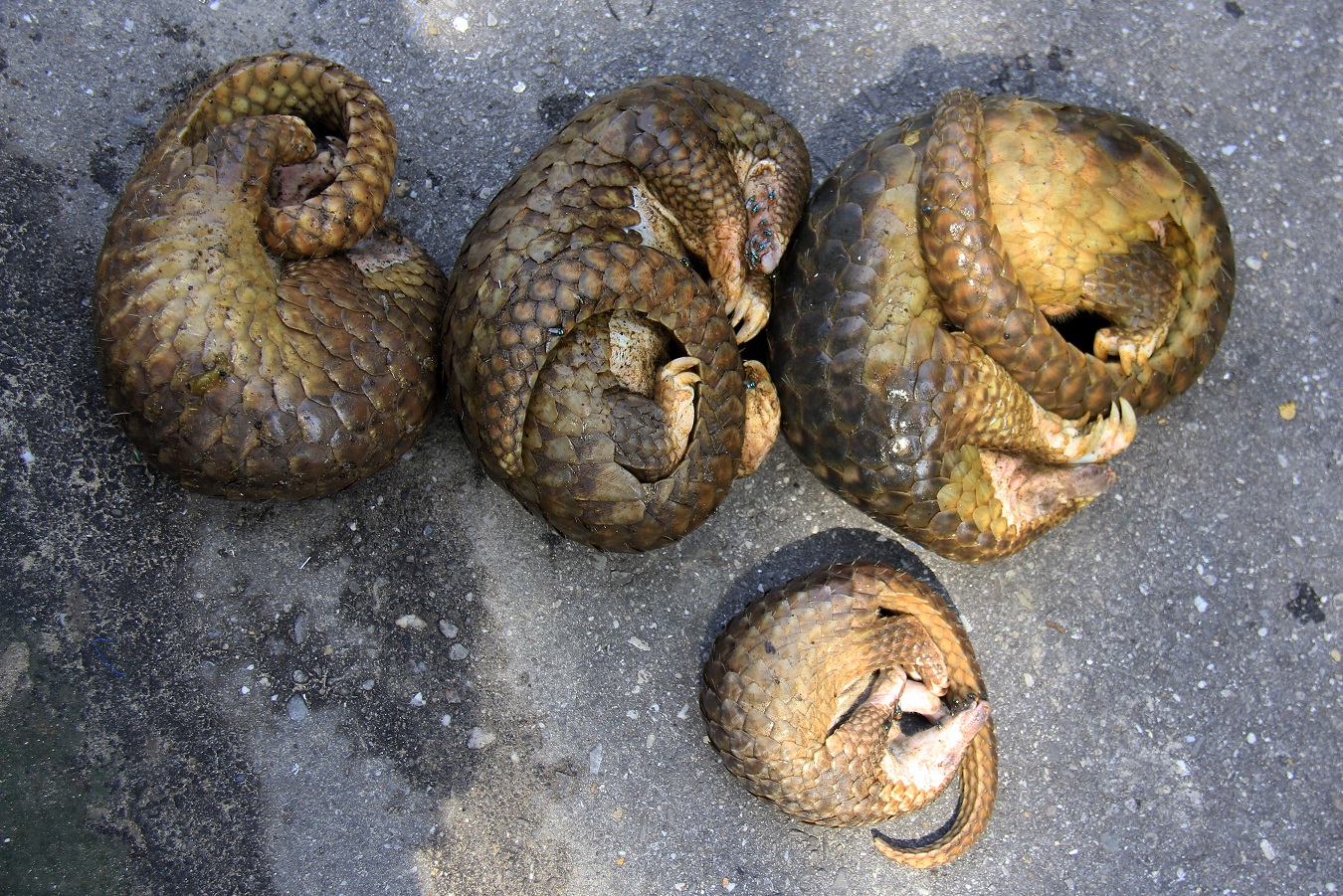 PANGOLINs, THE MOST TRAFFICKED MAMMAL IN THE WORLD
Although they are shy and reclusive animal, pangolins are the most trafficked mammal in the world. It is estimated that tens of thousands of pangolins are smuggled every year. The IUCN, a global conservation organization, estimates that one pangolin is captured illegally every five minutes.
Pangolins are poached due to unfounded belief that their scales have great medicinal property. Moreover, pangolin meat is served as luxury food for the elites in certain countries.
In Indonesia, pangolin trade is illegal according to Law No. 5/1990 and Minister of Environment and Forestry No. 106/2018.
9. Pangolins' Conservation Status under Threat
All eight pangolin species are included in the IUCN Red List of Threatened Species that require conservation. According to a 2019 assessment, three species of the Asian pangolin – Chinese Pangolin, Sunda Pangolin, and Philippine Pangolin – are listed as Critically Endangered (CR), while the Indian Pangolin has been classified as Endangered (EN).
Also, two of the African pangolin species – the White-bellied Pangolin and the Giant-ground Pangolin – have been classified as Endangered (EN), while the other two are listed as Vulnerable (VU). The conservation status is very worrying as illegal trafficking is seriously threatening their existence in the wildlife.
10. Has Its Own Global Day
The UN Environment Program (UNEP) celebrates pangolins through Global Pangolin Day that falls on the third Saturday of February. In 2021, Global Pangolin Day falls on 20 February.
The international day is one of the efforts to raise awareness on pangolin conservation while at the same time introducing global citizens to this charismatic species and threats on their existence.