Cats have a long and storied history with humans. Evidence of human-feline interactions can be found just about everywhere, from ancient Egyptian artefacts to memes on the internet.
At Restorasi Ekosistem Riau (RER), we simply adore cats. But the ones we have here are a little different from the tabbies you see roaming around your local neighborhood.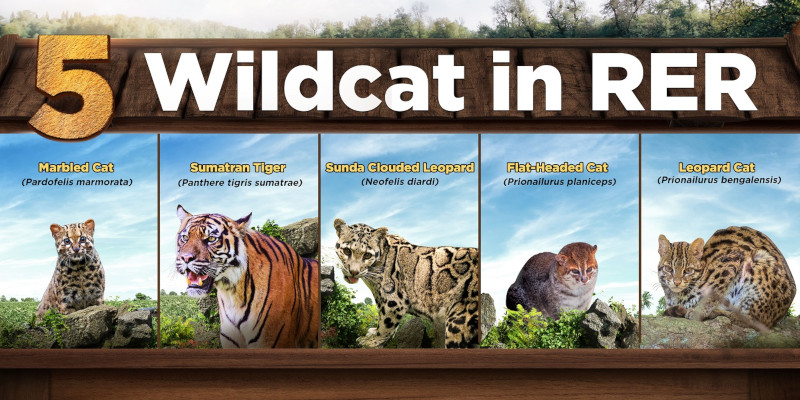 Five out of six wildcats within the RER area
The cats here are really wild. Most of them are legally protected too, since their populations are in decline. So far, the RER team has discovered five wild cat species within the restoration area. Let's get to know them a little better.
1. Sumatran tiger (Panthera tigris sumatrae)
The beautiful Sumatran tiger, as the name implies, is found predominantly on the western Indonesian island of Sumatra. Unfortunately, the Sumatran tiger is facing extinction due to habitat loss. The International Union for Conservation of Nature (IUCN) considers the species to be Critically Endangered (CR), with fewer than 400 individuals remaining in the wild.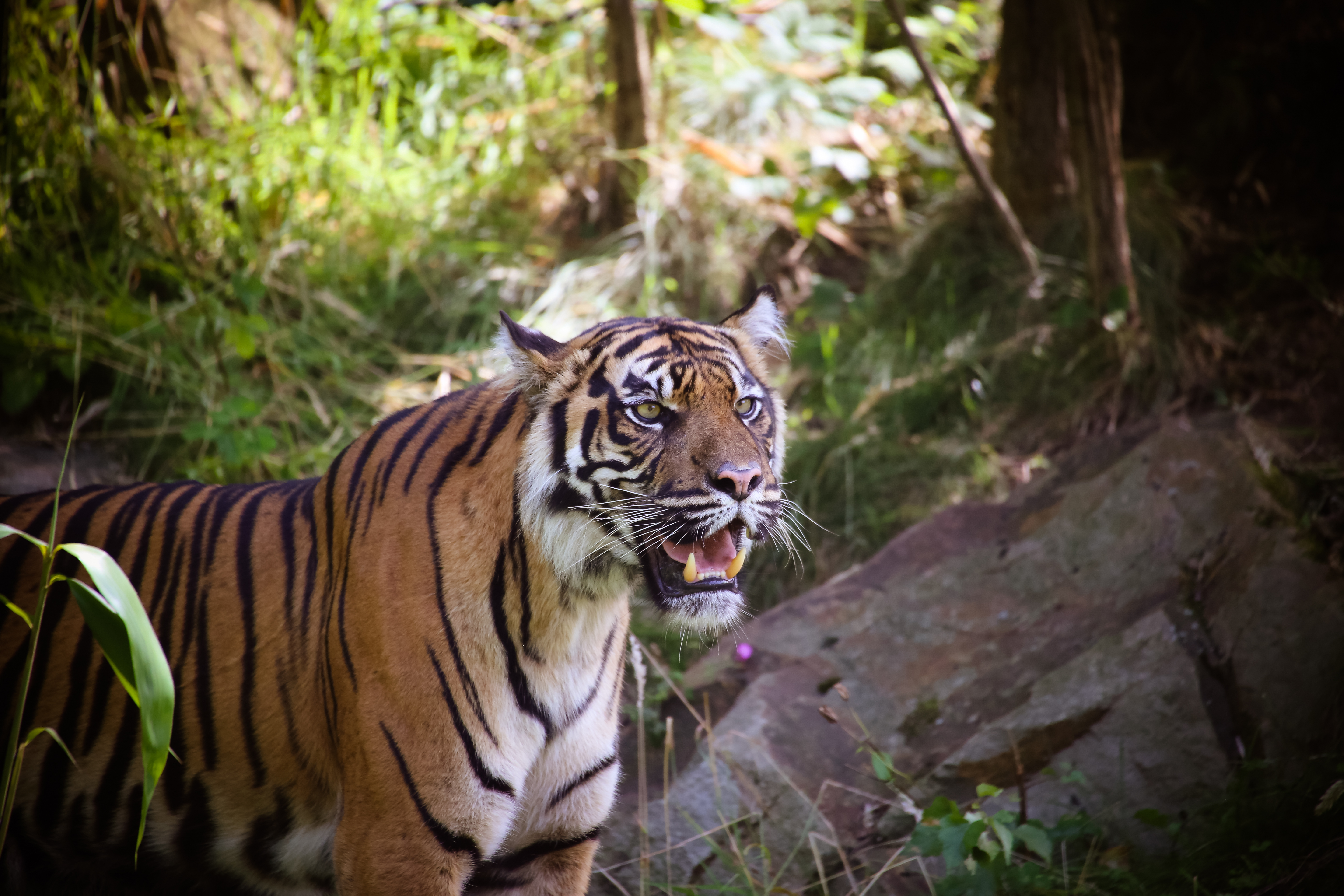 The Sumatran tiger is one of 797 species discovered in Restorasi Ekosistem Riau.
Here are some facts about the Sumatran tiger that you should be aware of:
It is the smallest of the world's five tiger subspecies, because it lives on an isolated island habitat
Sumatran tigers have the smallest black stripes of any tiger subspecies and a darker orange colouration in comparison to other subspecies. This is because they ambush predators in the Indonesian rainforest and must blend in with the dense flora, which aids in disguise
Indonesia, the world's largest Muslim country, has also turned to religion for help in the conservation efforts. The Indonesian Council of Ulema (MUI) issued a fatwa, or Islamic decree, prohibiting poaching in 2014
As a top predator, Sumatran tiger is a keystone species in RER, keeping its various prey species at a controlled level so that no prey species become dominant. It has an impact on the diversity and health of the plants in the forest
In 2020, concerted efforts were made by the Ministry of Environment and Forestry to bring a female Sumatran Tiger named Corina back to its habitat in the peat swamp forest of Kampar Peninsula
2. Marbled cat (Pardofelis marmorata)
To say that the marbled cat is a mysterious creature would be an understatement. The Marbled Cat was classified as Vulnerable in 2008, but its status was upgraded to Near Threatened on the IUCN Red List in 2015. It is also protected by Appendix I of the Convention on International Trade in Endangered Species (CITES).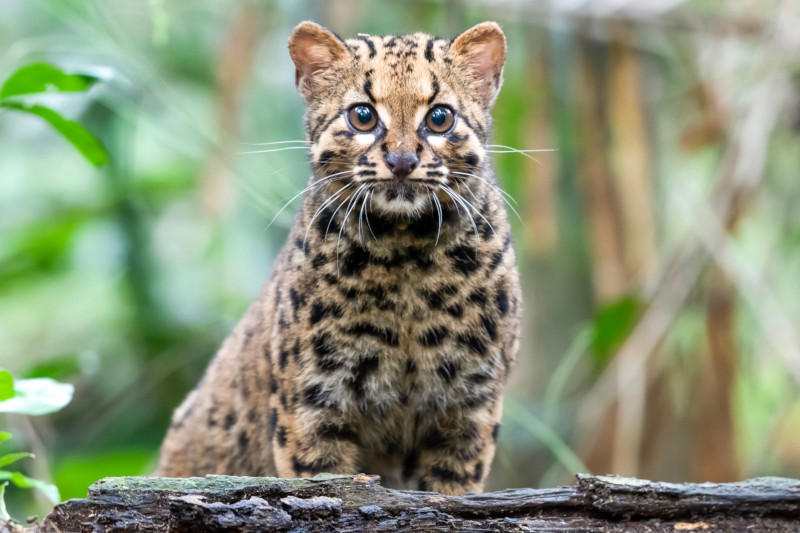 Let's take a closer look at some of the marbled cat's most distinctive characteristics:
Known for its ability to slide headfirst down a tree
Territorial creatures, with a home range of around 2.2 square miles
Considered to be nocturnal and solitary, although new studies suggest they are active throughout the day and at night
The majority of marbled cat sightings in RER happen during the day
Spend most of their time in the woods, which would explain why sightings are so rare
Sensitive and intolerant to human disturbance.
3. Flat-headed cat (Prionailurus planiceps)
Native to Indonesia, Malaysia, Brunei and historically Thailand, the flat-headed cat is one of the world's least-known and most endangered cat species, with fewer than 2,500 adult individuals left in the wild. Since 2008, the IUCN has designated it an Endangered (EN) species.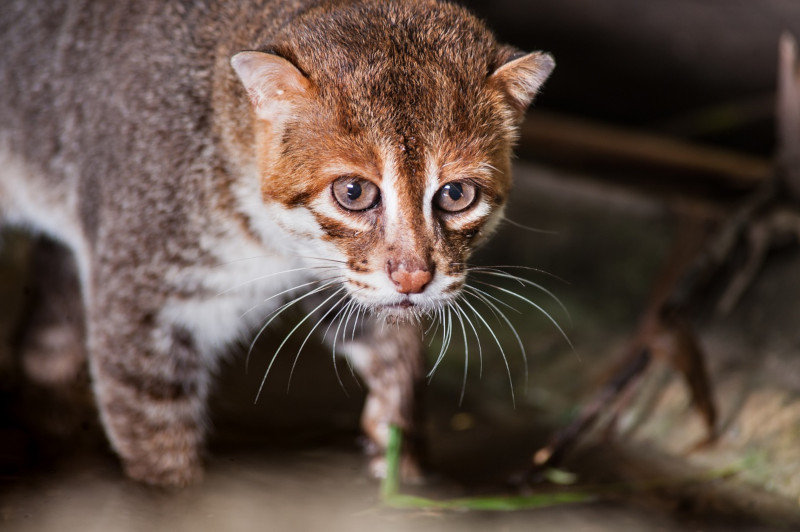 The flat-headed cat is also officially listed in CITES Appendix I, while hunting and trading of these species is illegal in Indonesia, Malaysia and Thailand.
Want to know more? Here are some fun facts about the flat-headed cat:
It can't retract its claws. This apparently unusual feature is actually common in cats that fish
Lives in wetlands and lowland tropical woods, but will also feed from ponds after floods
All 11 of the RER's reports show that these species have been found near water bodies in our concession areas
A distinguishing feature is the considerable dip of its skull, which runs from snout to muzzle and gives the cat its name
It has webbed toes and small round ears, which are suited to an aquatic lifestyle
Similar to raccoons, the flat-headed cat will often 'bathe' its food in water before eating it
4. Sunda-clouded leopard (Neofelis diardi)
Also known as Macan Dahan, Sunda-clouded leopards are indigenous to Malaysian Borneo and Indonesia. You can find them from Sumatra and Sabah to Sarawak and Brunei Darussalam. With only about 4,000 of these amazing cats left in the world, the IUCN has designated the species as Vulnerable (VU) and made it a protected species in all three countries where it can still be found.
The sunda-clouded leopard is one of 73 mammal species identified in the RER.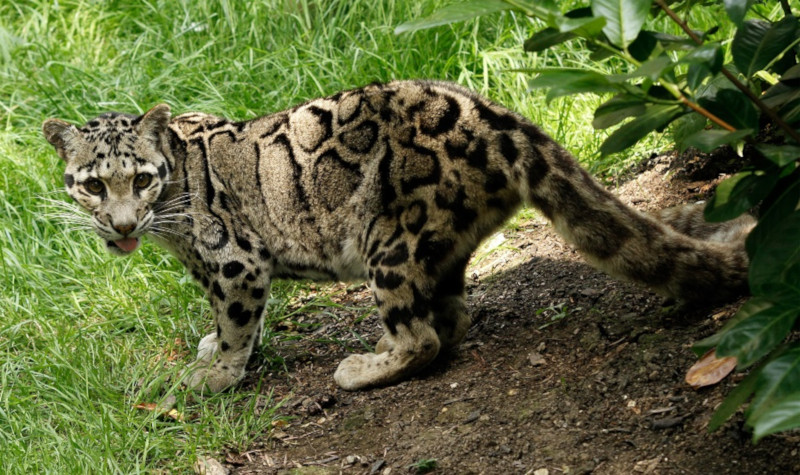 Here are some interesting facts about the Sunda-clouded leopard that make it unique:
It has the largest canine teeth relative to skull size of any cat
Some have suggested it's a close relative of the famous sabre-toothed cat
Its coat is patterned with unevenly shaped ovals that look like clouds (hence the name)
The Sunda-clouded leopard cannot roar or growl
It can take down large and formidable prey, such as juvenile wild boars
It hunts mainly on the ground, using its impressive climbing skills to avoid danger.
5. Leopard cat (Prionailurus bengalensis)
Endemic to South, Southeast and East Asia, this diminutive cat has been classified as Least Concern (LC) on the IUCN Red List since 2002 because it's widely spread. However, it's still threatened by habitat loss and hunting in certain parts of its range.
Historically, the leopard cat of continental Asia was thought to be the same species as the Sunda leopard cat. Since 2017, the latter has been recognised as a separate species, with the scientific name Prionailurus javanensis.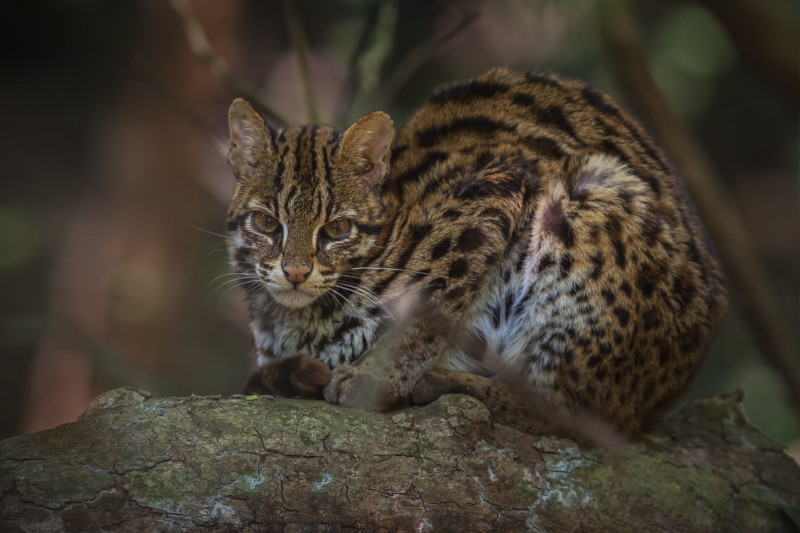 Here's some fun facts about the leopard cat:
They are agile climbers and arboreal in their habits
They rest in trees but also hide in dense thorny undergrowth on the ground
They can swim, but prefer not to
Unlike many other small cats, they do not "play" with their food.
Birds make up the bulk of their diet
Both sexes scent-mark their territory by spraying urine, dropping faeces in open spots, head rubbing and scratching.
RER has collaborated with Fauna & Flora International (FFI) to provide advice on policies and practices for biodiversity assessment, climate challenges, and community involvement. FFI began conducting intensive biodiversity surveys in 2015. Since then, RER teams have continued to expand on the data with a variety of monitoring instruments such as camera traps and transects.
RER disclosed a new total of 838 plant and animal species in 2021, an increase of 12 species over the previous year, while continuing the wildlife monitoring.