Restorasi Ekosistem Riau (RER) has now recorded 757 plant and animal species resident in the Kampar Peninsula as of June 2018.
This builds on RER's previous biodiversity count totalling 519 species, documented in its 'Biodiversity of the Kampar Peninsula' report, published in November 2016 following field studies conducted by RER partner Fauna & Flora International (FFI) in 2015. The new total is the result of continued biodiversity monitoring by RER field teams, utilising camera traps and ocular surveys.
Established by APRIL Group in 2013, RER is an ecosystem restoration programme aimed at protecting, restoring and conserving ecologically important peatland forests within the Riau province in Indonesia. The programme includes 150,000 hectares of forest – an area twice the size of Singapore.
Of the 757 species identified so far, 304 are birds, 107 are amphibians and reptiles, 71 are mammals and 89 are fish. The remaining 186 species are plants. New species identified during the past six months include the Gray-faced Buzzard, Blue-winged Pitta and the Malay Night-Heron.
Of the 757 species identified so far, 304 are birds, 107 are amphibians and reptiles, 71 are mammals and 89 are fish.
A further interesting discovery is the Sambar Deer. FFI's surveys achieved just one sighting of this elusive animal in 2015, and otherwise recorded its presence through its footprints. However, RER's camera traps have managed to capture more images of this large and elegant deer.
RER is also home to species of wild cats that have been listed as endangered by the IUCN. The Sunda Clouded Leopard – the larger of the cat species in RER – has been detected moving in pairs and research is ongoing to verify if this is a pair of siblings or a male-and-female pair. Among the 757 species identified, 48 are classified as globally-threated species, including the critically endangered Sumatran Tiger and Sunda Pangolin.
Wildlife monitoring
RER technical staff Muhammad Iqbal and Prayitno Goenarto explains that wildlife camera traps have been largely responsible for the identification of many species within the RER.
"It is difficult to get personal observations of many animals as they are either nocturnal or easily hide from people.
"With camera traps and us not being there, animals can act in their natural ways – they don't have anything to be afraid of or to avoid," he says.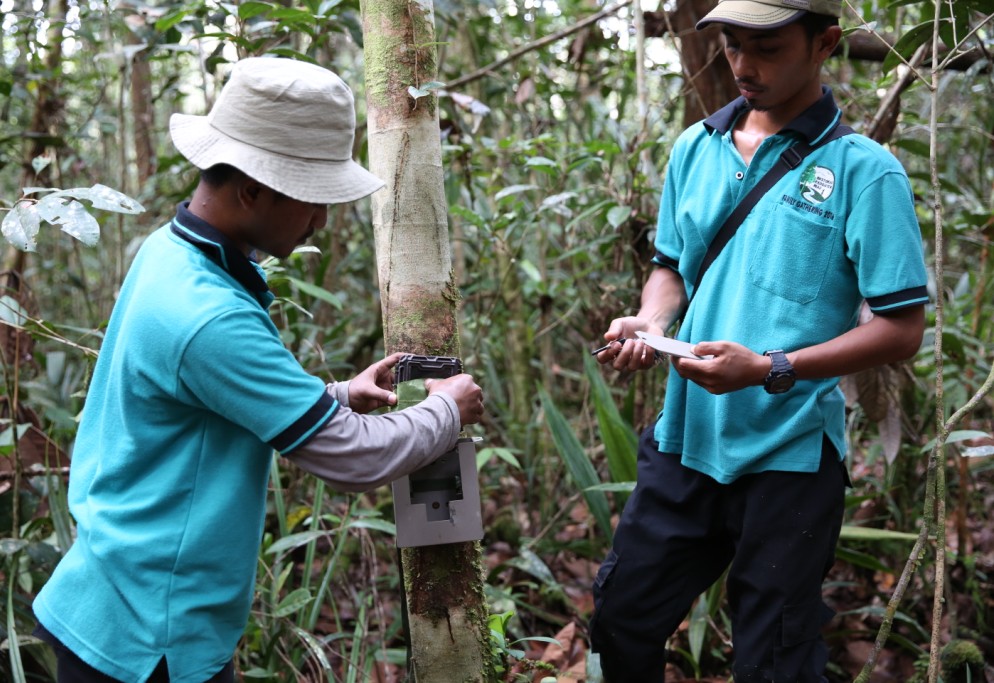 Monitoring wild animals in their natural habitat is not easy. The Sumatran Tiger for example is a rare animal with a large territory, so a direct encounter with a human is extremely unusual.
The camera traps, with batteries capable of lasting up to two months, are set up for specified periods.
"We target about 1500 days for each administrative state in RER. If we have 30 cameras, that's 50 days of camera deployment required in the field. After 50 days, we return to the sites and collect the cameras, and see which animals the cameras have captured," Iqbal explains.
However, there are some animals which are generally just difficult to detect, including arboreal animals (animals which spend the majority of their lives in trees) like monkeys or squirrels, he added.
Next steps
In terms of future plans, Prayitno said that RER has plans to release publications at least twice a year on all topics relevant to RER's work, including social and community aspects, restoration activities, and biodiversity. This follows last year's annotated bird checklist and the recently published Mammals of Kampar Peninsula.
Last year, the team participated in the 8th Asian Wetland Symposium in Japan, where Prayitno co-authored a poster on the 'Biodiversity of the Kampar Peninsula' while Iqbal presented on the 'Status of White Winged Duck in Kampar Peninsula'.
View the RER Annual Report 2017 here.