This year, Restorasi Ekosistem Riau (RER) program has been in operation for a decade to restore and conserve more than 150,000 hectares of peatland on Sumatra's Kampar Peninsula and Padang Island, Riau.
During the past ten years, this initiative has provided nature-based solutions in one of Indonesia's largest peatland landscapes. It demonstrates how a production-protection model can deliver lasting benefits to people and nature by not only producing from the landscape, but also restoring forests degraded by past exploitation activities. This involves a combination of protection, restoration, and active management.
"RER is a true reflection of APRIL Group's commitment to ecosystem restoration and biodiversity protection in Indonesia, along with the government's efforts to control climate change by reducing carbon emissions."
– Sihol Aritonang, President Director of PT Riau Andalan Pulp and Paper (RAPP)
This article looks back over ten years of innovative growth and development at RER, while also looking ahead to see what the future holds. We'll delve into what makes the production-protection model effective, and see how it has formed the basis for operations and conservation activities over the past decade. Let's begin by addressing three of the most pertinent questions about this approach: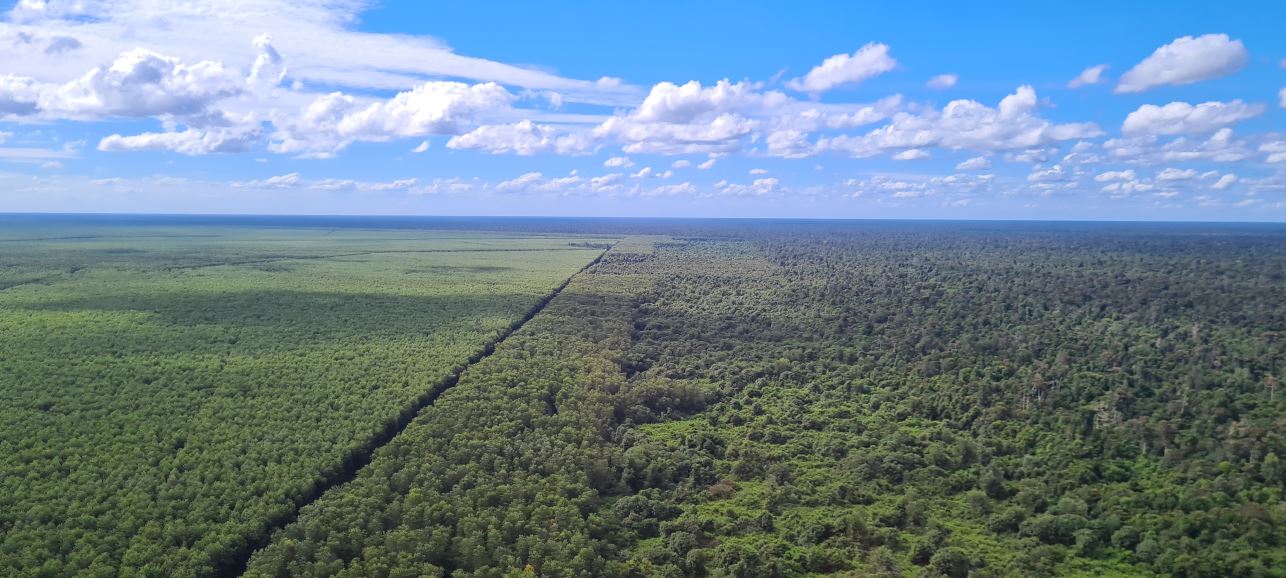 APRIL's Production-Protection Model
1. What is a production-protection model?
The production-protection model integrates fiber plantations and natural forest restoration areas. This approach keeps forests safe from external threats, while also generating funds that are channeled back into conservation and management. Over the past decade, this has proven to be a reliable and effective model for forest landscape restoration in Riau, and a scalable solution for conservation efforts nationwide.
2. How does it work?
APRIL Group developed a 'plantation-ring' to protect core areas of natural peat forests from encroachment and degradation. Acacia plantations were established to replace the most degraded forests on the periphery of both the Kampar Peninsula and Padang Island landscapes, creating a buffer zone that conserves the interior core of raised peat domes.
3. What are the main benefits?
The plantation ring is the key to APRIL's landscape management model for conserving forests and biodiversity in peatlands, but also includes water management and fire prevention/control. The management of soil water levels minimizes peat subsidence and carbon emissions, while also maintaining productive plantations. APRIL's active management in the fiber plantations and restoration forests ensures rapid fire response capabilities are always available and fire prevention programs keep nearby communities safe from fire.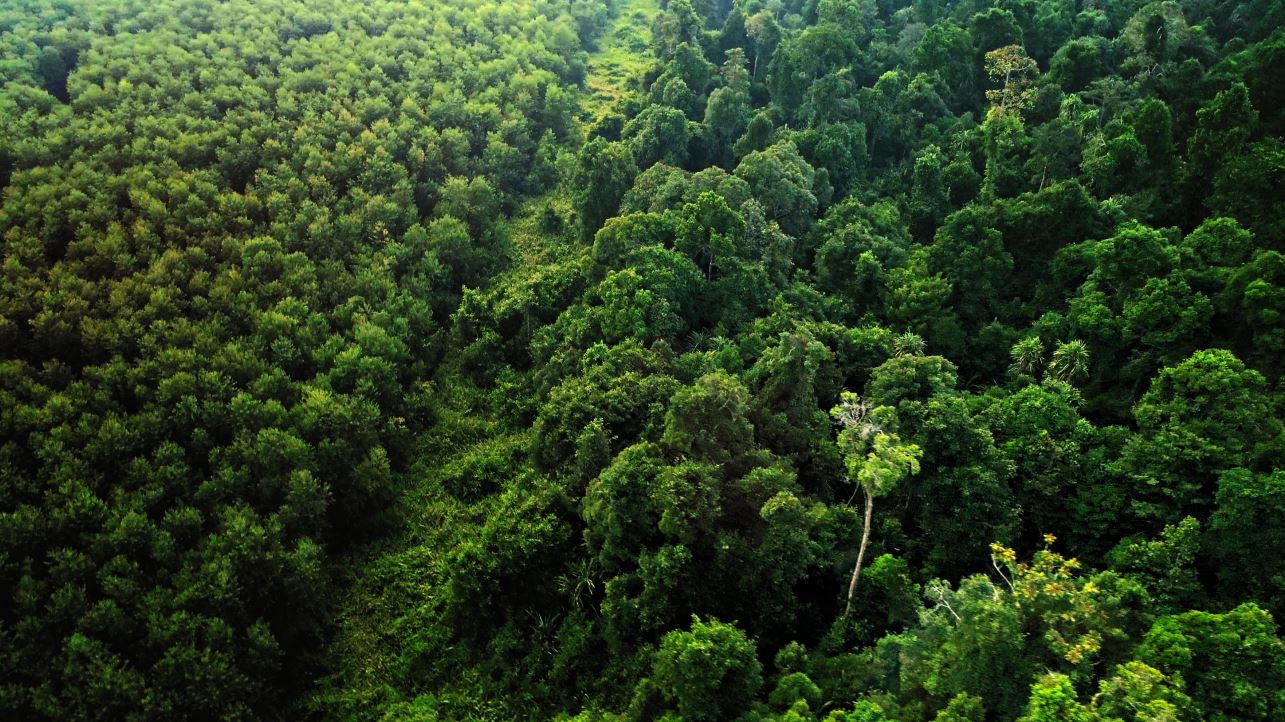 APRIL Group uses the "ring" plantation concept to protect forests of high conservation value.
It Takes a Village: Working Together to Benefit People and Nature
RER plantations provide a wide range of environmental and social benefits. Over the past ten years, the cumulative impact of the production-protection approach has resulted in stable land use and a recovering forest landscape that produces forest products for society, improved livelihoods for the local population, and a protected habitat for unique and globally significant biodiversity. By forming a barrier against illegal logging and human encroachment, the acacia plantation ring offer a safe haven for a diverse array of wild animals; and also emit 10 tons less CO2e per hectare than un-managed, degraded peat forests.
Revenue generated by the manufacture of pulp, paper, and viscose from plantation fiber supports forest protection and restoration activities, while also providing a source of income and livelihoods for local residents through employment and sustainable use of non-timber forest products (NTFPs). RER works closely with more than 15 communities to improve livelihoods, prevent forest degradation and tackle ecosystem threats such as poaching, uncontrolled drainage, illegal logging, and slash-and-burn farming practices.
RER also collaborates with local NGOs to develop alternative and sustainable livelihoods for people living near the forest boundary through intensive "no-burn" vegetable farming techniques. In 2022, the program conducted 156 community welfare programs in 18 villages around the concessions on Kampar Peninsula and Padang Island, which included support for infrastructure, campaigns to encourage clean and healthy living, sports, and religious activities.
Part of this outreach focuses on fishery programs, helping local fishermen sustainably manage their catch and add value through processing. In 2022, local fishermen made more than 800 trips along the Serkap and Sangar rivers, where they harvested around 7,300 kg of fresh fish and ultimately produced 2,700 kg of dried fish products for sale at market.
Empowering communities through sustainability
Through a combination of employment, outreach and livelihood support, RER impacts the lives of many people living around concession areas in Riau:
75 RER employees
56 security rangers
45 labor supply
5,600 kg of fish harvested each year
10-16 million (IDR) average monthly income for local fishers
15 villages contacted
15 different types of programs implemented
260 million (IDR) on average in annual expenditure on community livelihood support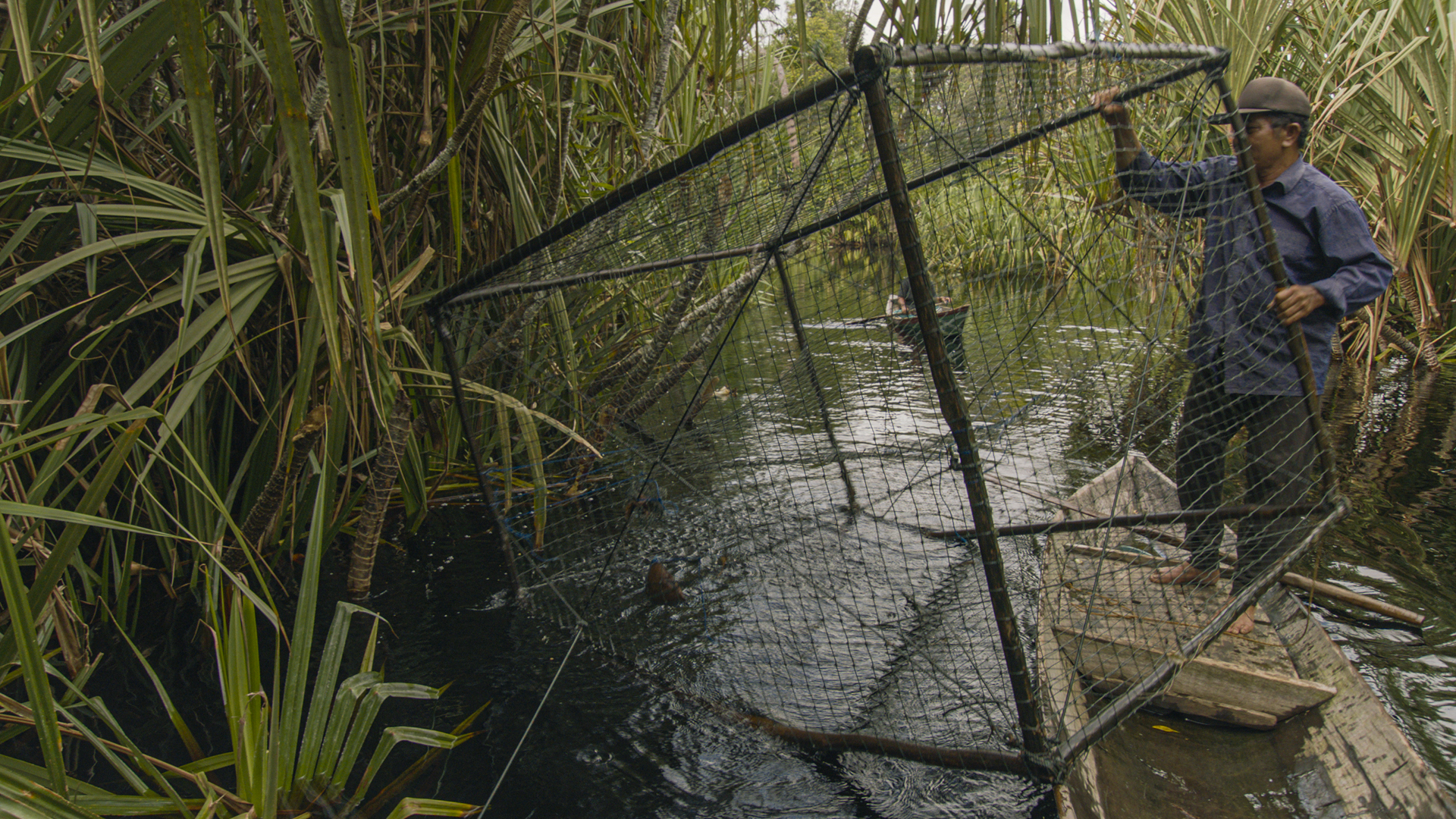 COMMUNITY INVOLVEMENT IN THE PROTECTION, PLANNING AND MANAGEMENT OF THE RESTORATION AREA IS ESSENTIAL.
A Decade of Development: APRIL's Commitment to Restoration in Riau
Back in 2013, APRIL Group established the RER program in order to protect and restore the peatland ecosystem in Sumatra. Comprising five concessions and spanning more than 150,000 hectares, the program is built around three core pillars: biodiversity, climate, and society. RER is the result of a 60-year permit granted by the Ministry of Environment and Forestry of the Republic of Indonesia; as an integral part of this public-private-sector partnership, APRIL Group continues to provide funding, leadership, operational resources, and technical expertise to the program.
As one of Indonesia's last remaining peatland landscapes, RER concessions provide habitat for a complete array of wildlife that are specially adapted to wetland ecosystems. Of the 859 species of flora and fauna found here, 72 are included in the IUCN Red List, with 37 listed as Vulnerable, 22 Endangered, and 13 Critically Endangered. By the latest count, 118 RER species are included on the CITES list Appendices for restricting International trade, with another 101 protected by the Government of Indonesia As a result of RER's continuous biodiversity monitoring programs, the number of species known to utilize Riau's peat forests has gradually increased and is proving to be generally stable and self-sustaining.
A Hub of Biodiversity: RER in numbers
The RER concession area is home to 846 species of flora and fauna, comprising:
78 species of mammals
317 species of birds
106 species of amphibians and reptiles
198 species of plants
58 species of Odonata
89 species of fish
This makes RER a vital refuge for wildlife in Indonesia's peatland ecosystem.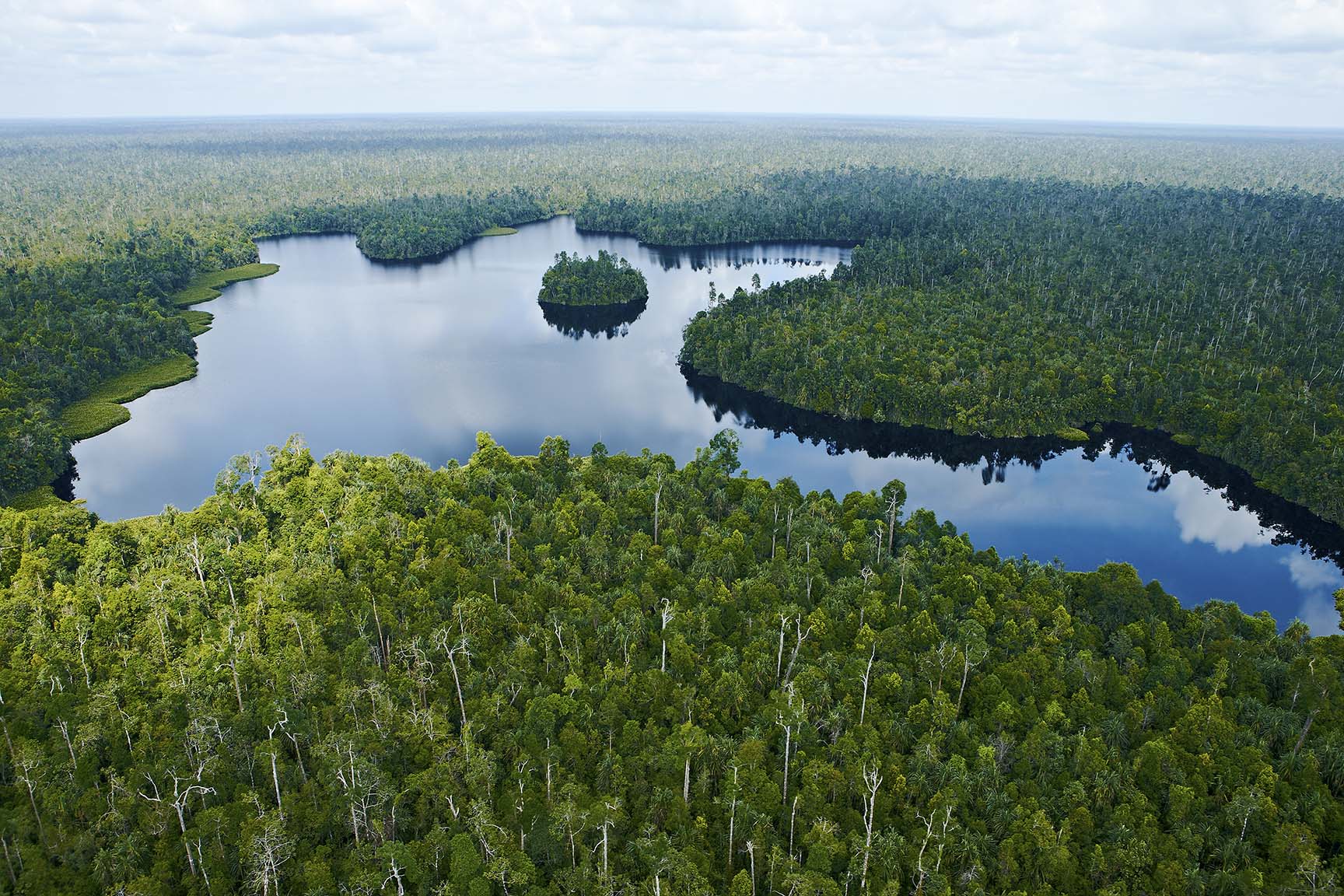 Restorasi Ekosistem Riau (RER) is a collaboration initiated by APRIL Group in 2013 to protect peat forest in Kampar Peninsula and Padang Island.
Pioneering Conservation Efforts
Over the past decade, RER has taken significant steps forward in restoration and conservation efforts throughout its concession areas. Aerial and ground surveys were initially conducted to establish restoration priorities, which include tree planting and canal closures on the most highly degraded sites. Then, natural tree regeneration was found to be the most successful and cost-effective restoration approach, combined with forest protection to prevent incidents of new forest degradation from occurring.
RER also established remote tree nurseries to support reforestation efforts, while also actively rebuilding infrastructure and managing the landscape to protect vital peatland ecosystems. Below are a number of key milestones on this conservation journey:
More than 55,000 seedlings of local tree species planted
190 ha of highly degraded forest restored
87 dams constructed and 31 drainage canals closed (totaling 177 km in length)
12,600 hectares of land re-wetted on the Kampar Peninsula and Padang Island
Today, less than 1% of RER's landscape is 'highly degraded' from a combination of past intensive logging, drainage, and fire. It is these sites where canal closures and tree planting efforts are being concentrated. Crucially, the program's forest protection and community relations efforts have successfully prevented forest and land fires in the RER area on Kampar Peninsula, with zero fire incidents since 2014.
New Decade, New Opportunities for Development
In the coming months, APRIL will release a special report that reflects on a decade of progress, with insights and testimonials from the RER Advisory Board, partners, local communities, and team members. Set to be published in July 2023, the report will be distributed to key stakeholders along with special anniversary merchandise.
Looking to the future, APRIL Group remains dedicated to investing in the environmental sector. This is evidenced by the APRIL2030 commitment, whereby APRIL pledges to use one dollar from every ton of plantation fiber to finance restoration and conservation activities. Through RER, this funding will be used to deliver positive impacts to nature, climate, and environment, while still driving sustainable growth for the company.
From production and protection to conservation, restoration, and community development, RER continues to deliver positive impacts and nature-based solutions in Riau.