The presence of Restorasi Ekosistem Riau (RER) has received the attention of local people in the communities of Kampar Peninsula and Pulau Padang. A total of 23 young candidates originating from Teluk Meranti Sub-District on the Kampar River were recruited to join the RER Foreman Trainee Test in RER office located in Pangkalan Kerinci.
The recruitment is a follow-up on the results of public meetings held in early 2016 where RER socialized the Vision, Mission and Objectives of Riau Ecosystem Restoration and received important feedback from the community to provide skill training and job opportunities. RER was seeking candidates for the position of Forest Protection Guard with duties that include the prevention and control of forest encroachment, illegal logging, fires, and hunting of protected species of wildlife. 
Each candidate was given a standardized psychological test, job interview and medical check-up. Based on the results, the top eight candidates were selected as RER Forest Protection Guards. Three people from the village of Teluk Binjai, two people from Teluk Meranti, one person from Pulau Muda, one person from Segamai, and one person from Aceh were selected.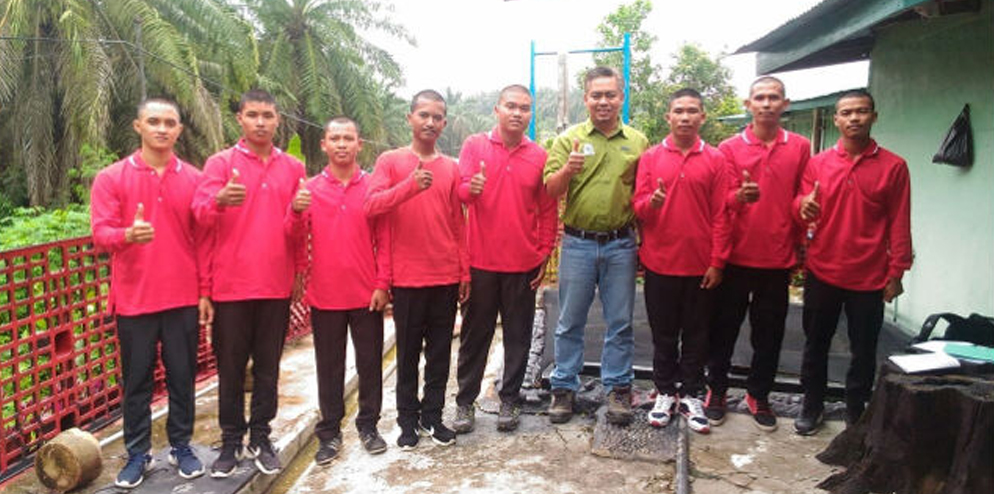 RER Estate Manager Edy Supraitno with newly selected Forest Protection Guards from local communities to work on RER concessions on Kampar Peninsula.
The candidates motivation for applying for the RER Forest Guard jobs are to improve their livelihood, become more financially independent and help their parents. All the candidates were pleased that RER was taking specific interest to provide jobs to local residents surrounding the Ecosystem Restoration area.
"We have been educated and trained very hard this month by the RER Fire Department. An unforgettable experience because we were able to get a lot of lessons during the training. I am grateful to the company that has opened up opportunities for rural youth to join. Hopefully this can be a good start for my future and my other friends, " said Roki Angga Saputra, one of the candidates from the Pulau Muda Village.
RER currently employs 54 permanent employees and 98 contracted staff. About 87% of the staff originate from Riau province, with the remainder from Sumatra and Jawa, including 1 expatriate from USA. Of the 51 employees/staff that work at RER's Pulau Padang area, thirty-one originate from Kepulauan Meranti and Merbau.  
RER Estate Manager, Edy Suprayitno was pleased to see such highly qualified and motivated young men that wished to be part of RER's objective of protecting and restoring the ecosystem balance of the peat forest on the Kampar Peninsula.
"The Forest Protection Guards recruited are at the forefront in the implementation of RER ecosystem restoration projects. RER is committed to working closely with local communities to establish trust, develop plans and collaborative work in implementing the restoration program," added Edy.