It's a tough job to keep forests pristine and free of fires, illegal loggers and poachers, in rain or shine, but it's worth it when you know the work goes into preserving the environment for the next generation.
This was said by 37-year-old Wahyudi and 42-year-old Surya Saputro, Restorasi Ekosistem Riau (RER)'s lead rangers in the Kampar Peninsula and Padang Island respectively.
"Being a ranger is a very important job. We are caring for and protecting the forests, which are 'Green Lungs' for our world. So we are proud to be here, protecting the forest and rivers for people and animals to continue enjoying in the future," Wahyudi said.
At the moment, 60 rangers work to protect the 150,000 ha of forest that make up RER. Out of the 60, 34 rangers work in Kampar Peninsula while the remaining 26 work in Padang Island. They make up seven ranger teams in total: four on Kampar Peninsula and three on Padang Island.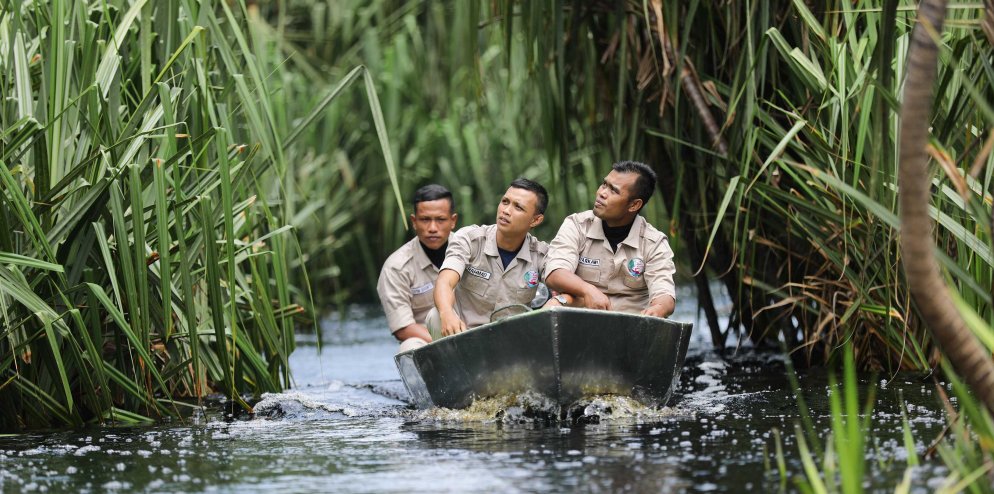 PROTECTING A FOREST AREA OF 150,000HA IS NOT AN EASY THING. THE RANGERS KEEPING WATCH AND MONITORING EVERYTHING THAT HAPPENED IN THE FOREST
All the rangers follow a 20-day work and 10-day off monthly schedule, said Surya.
Unless they are coming off the night shift, the RER rangers typically start their work at 8am. They either go on routine patrols around the forests to prevent illegal logging, fishing, poaching, encroachment or forest fires, or they stand guard at designated ranger posts, ready to take action in case of any incidents.
"As an example, in Kampar, eight rangers will be assigned to work in the Sangar sub-village in one day.
"This means six rangers doing the day shift – four patrolling and two standing guard at the post – and two rangers doing the night shift of standing guard at the post," Surya explained.
Sometimes, the rangers on the day shift may even need to stay overnight in the forest, should their patrols take them too far from the ranger posts by nightfall.
The RER team has trained the rangers to make instant decisions when they see something that is not right during their routine patrols, he said.
"For example, if they see illegal fishing happening, they have to stop the culprits, arrest them and report them to the RER team," Surya said.
COMMUNITY INVOLVEMENT IN THE PROTECTION, PLANNING AND MANAGEMENT OF THE CONSERVATION AREA IS ESSENTIAL.
As each patrol covers a distance of over 20km, all the rangers need to be really fit and healthy to carry out their duties, Wahyudi said.
They also have to go equipped with first aid boxes and machetes in case these items are needed.
"We know our restoration area is a remote area with a lot of diversity, so we will encounter wild animals. Potentially facing them remains one of our biggest challenges," Wahyudi said.
However, staying focused is the key to handling this challenge, with the rangers being encouraged to take breaks and re-focus if required, he said.
A really unforgettable situation for the rangers occurred just four months ago, when they had to help rescue a Sumatran Tiger which was trapped in a snare near RER in the middle of the night.
"It was a very scary and rare moment when we were able to hear the tiger's roars," Surya said.
Yet, for the rangers, meeting wildlife in their natural environment in this way is likewise one of the best things about the job.
"It's really great getting to be close to nature, especially the forest and rivers. We're always discovering new things every time we come into the forest, and adding to our database of knowledge," Wahyudi said.