The Restorasi Ekosistem Riau team is made up of talented professionals from a wide range of backgrounds. Each member brings their unique skills and experience to the group, helping deepen our knowledge base and broaden our conservation impact. In today's article, we focus on one of our talented RER conservation officers, Dian Andi Syahputra, to find out more about his job and how he came to work in this field.
After graduating from Riau University with a degree in Forestry in 2016, Dian began working for RER in 2018 as an environment officer on the Kampar Peninsula estate. Then, in 2019, he joined the Environment & Water Management Department, before moving to the Ecology and Restoration Department in 2022 to work as a conservation supervisor.
Ever wondered if you've got what it takes to follow a career in conservation? Read on to find out.
Activities as conservation supervisor
A conservation officer in RER engages in lots of different activities. One of the first tasks is to make sure all the camera traps are in good condition and ready to go. Conservation supervisors like Dian will generally divide their time between the office and the field (the ratio is around 60:40).
In the office, this involves performing routine checks of camera traps and handling all the data from various RER wildlife surveys. This information is essential to education, evaluation, and progress. Dian often goes out in the field with RER researchers and students, who work with us as part of an internship for the Conservation Officer Program.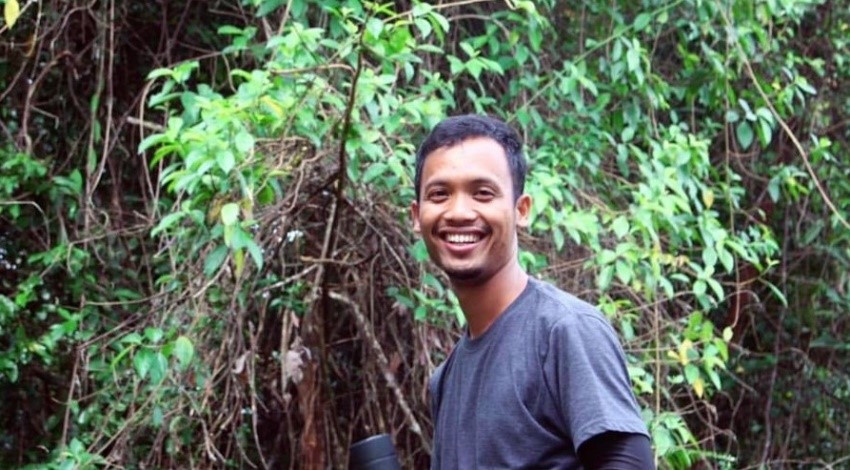 Dian Andi Syahputra, Conservation Supervisor, Restorasi Ekosistem Riau (RER)
Personally, Dian prefers working in the field to the office. As he explains, "when you're in the field, you're close to nature and feel inspired. Getting away from the hustle and bustle of the city, seeing the wildlife – it never fails to amaze me – every time we go into the field, I learn something new about animal behaviors."
Unforgettable moments or lessons from the forest
Being out in the field puts conservation officers in an environment that's filled with incredible biodiversity. Their surveys bring them into contact with new species, and occasionally provide them with sightings of rare and majestic animals. For many who work in RER, the experience has given them some unforgettable experiences.
For Dian, one of these moments came back in 2019, when he was coming back from a camera trap installation and saw a wild crocodile in the river. "Another really proud moment for me came when I photographed Corina the tiger using a camera trap. That was how we knew she was still alive."
How to become a conservation officer
If you want to be an environmental conservation officer, knowledge is power. Whether in the field or in the library, it's vital to build up your technical knowledge and learn all there is to know about your subject. Conservation officers like Dian and his team understand that there's always something new to discover in nature. To land a conservation officer job, a good place to start is studying hard and building up your educational background – but remember to always look for opportunities in the field too. Try volunteering, or contributing to research projects.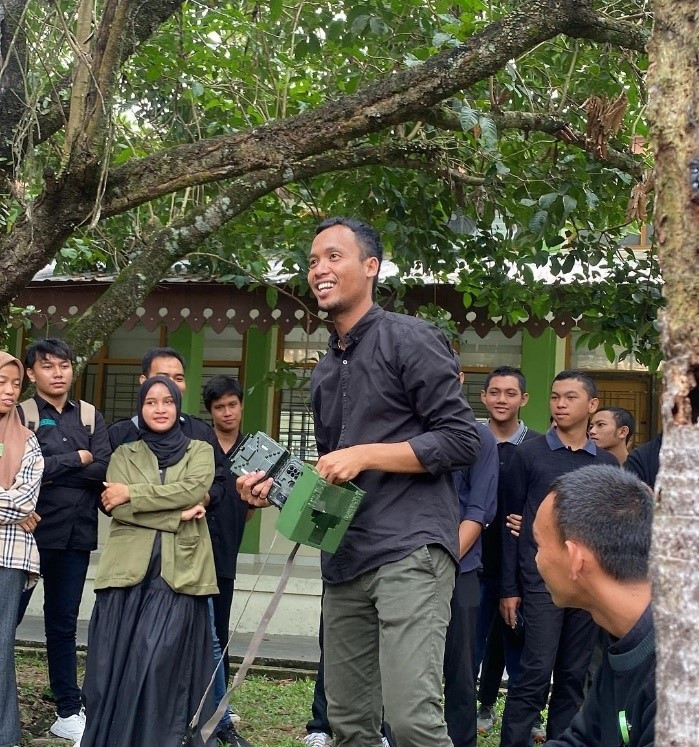 RER helps conservation officers to develop their skills and experience through various activities, including training, research and the student internship program.
But technical knowledge is only half the story. Theory is nothing without attitude and application. As Dian explains, "in this line of work, you have to be passionate about what you do; having the educational background is obviously important, but if you don't have the passion, you will only ever be half-heartedly involved in the process."
Working in a team of ecologists at RER
RER helps conservation officers to develop their skills and experience through various activities, including training, research and the student internship program. In September 2022, Dian went to the University of Indonesia to learn how to organize camera trap data using the R application. As he recalls, "this really helped me take my skills to the next level."
Recent training activities at RER include the Edge Effect bird banding sessions, which showed Dian and the team of ecologists how to safely capture and tag birds using aluminum ring equipment. They learned how to safely set up the nets, handle the birds without harming them, and conduct the physical checks needed to gather important conservation data. As Dian explains, "this helps us to gain valuable insights into species, their habits, sex, age and measurements."
Working in a team of experts and passionate conservation specialists, Dian is committed to preserving the natural wonders of Indonesia and the world. Through a combination of training, office work, and field research, this group is helping to further our understanding of the natural world and devise effective strategies for its preservation.
Turning passion into progress
Dian hopes he can continue to witness and study the species of this world, from birds and crocodiles to the Sumatran tiger. He believes awareness and passion are the first steps towards positive change. As he explains, "you don't have to be working in conservation to care about nature and to make a difference. Forests and nature do not demand anything in return from humans – they only ask that we are conscious of our impact and not too greedy in terms of what we take from nature, whether that is knowledge or resources."
Still interested in working as a conservation officer? Dian's journey from passion to profession demonstrates what it takes to succeed in this field. It requires knowledge, dedication, and resilience. Conservationists at RER are committed to preserving the Earth's biodiversity for future generations, aligned with our mission to support peatland forest protection, restoration, and conservation in Riau.
For conservation officers like Dian Andi Syahputra, there is also a more personal reason for this passion. As he explains, "being in the forest gives me a kind of peace that only nature can provide."