Forest restoration took root today in Indonesia. Conservationists began the planting of 2 million trees, the key stage of a $17 million healing process on the island of Sumatra.
"We're excited by what we've started here today," said Dr. Tony Whitten, a member of the Advisory Board for Restorasi Ekosistem Riau (RER) and Regional Director, Asia-Pacific for international NGO Fauna & Flora International (FFI) who has spent 40 years on conservation research in Sumatra. "And we're committed to seeing this effort through to the finish."
RER is the partnership of business and environmentalists that came together in 2013 to help restore Kampar Peninsula in Sumatra's Riau Province. The decade-long project is designed to revitalize 20,265 hectares of downtrodden peat forest across the Strait of Malacca from Singapore.
Indonesia's Minister of Forestry joined RER management in commemorating the first planting. Scores of villagers attended the ceremony held deep in the forest reserve.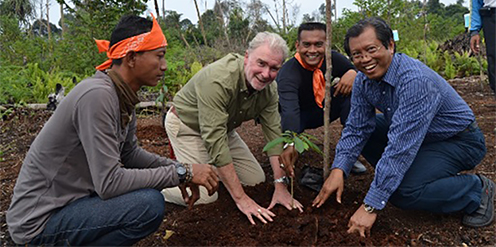 Indonesia's Minister of Forestry joined RER management in commemorating the first planting.
Tree planting is the first direct indication that RER is restoring forest damaged by logging, encroachment and forest fires. Nearly 1,500 trees were planted in time for today's ceremony. More than 2.1 million trees – native species collected from seeds within the reserve – will be planted over the next 10 years. They'll first be nurtured in RER's field nursery by locally hired employees.
Forest experts say restoration will improve wildlife habitat for vulnerable species on Kampar Peninsula. A biodiversity audit planned this year is expected to reveal the variety and number of animals inside RER's reserve. Hidden cameras have already captured video footage of some forest dwellers. 
The RER project was launched one year ago under a restoration license granted by Indonesia's government. It's intended to rejuvenate the landscape, assure sustainable lifestyles for forest communities and establish a replicable model for safeguarding more of the Kampar Peninsula. In addition to native species planting, here's what has been done in the first year of restoration:
Security posts established at gateways to the reserve;
Thirty-five forest rangers hired, trained and deployed;
Air, land and river surveillance initiated to curb illegal logging and fires;
One-on-one and group meetings to acquaint communities with RER;
Native-species nursery established;
Thousands of seedlings collected and nurtured for replanting by local workers;
Camera traps installed to monitor wildlife.
APRIL, Asia's second-largest pulp and paper manufacturer, is the sponsor of RER. FFI provides restoration management support, especially in the adoption of Climate, Community & Biodiversity (CCB) Standards. Indonesian community development consultants Bidara advise on social issues.
---
About RER:
Restorasi Ekosistem Riau (RER) is a not-for-profit organisation committed to delivering comprehensive ecosystem restoration of ecologically important peat forest areas on Indonesia's Kampar Peninsula, to fulfill environmental, economic and social imperatives in a sustainable manner.