Meet the Common Treeshrew (Tupaia glis). It is a small mammal which is part of the Tupaiidae family, which is one of the two families of treeshrews found in the world.
It is native to Thailand and Malaysia as well as Indonesia, where it is known as Tupai akar. As evidenced by its name, the Common Treeshrew is a common species and is currently viewed as a Least Concern (LC) species by the International Union for Conservation of Nature (IUCN).
The Common Treeshrew is one of the largest treeshrews, with an average body length of 16 to 21 cm and an average weight of about 190 g.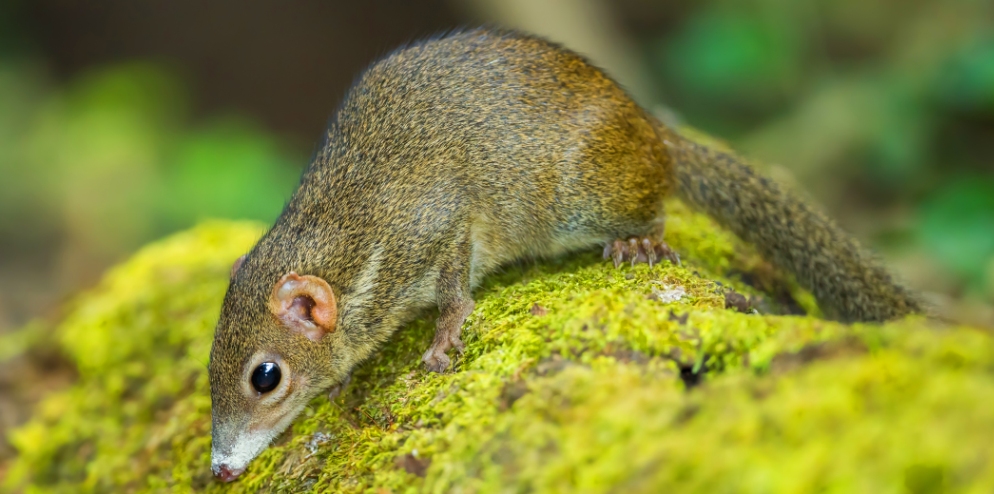 THE COMMON TREESHREW IS A LEAST CONCERN (LC) SPECIES
This treeshrew is reddish-brown in colour, with greyish or black upper parts and a whitish belly. Its long bushy tail – usually dark greyish-brown – is almost the length of its body.
The Common Treeshrew has bare paws with long sharp claws which are used for climbing. It has a long pointed snout, small ears and moderately sized eyes.
In terms of physical appearance, both male and female treeshrews are similar.
The Common Treeshrew mainly inhabits primary forest, but has been observed to be able to adapt to modified habitats such as secondary forest, plantations, fruit orchards and trees near residential areas.
This treeshrew is an agile climber, and sometimes jumps from the trunks of young trees to others. It is active during the day, and can be seen looking for food on its own or in pairs, mainly on the forest floor among tree holes, fallen branches and shrubs.
The Common Treeshrew is an omnivore which feeds on fallen fruit, seeds, leaves and insects such as ants, spiders, and sometimes, even lizards.
It frequently marks its territories using secretions from glands on its chest and scrotum. Adult males tend to do this scent-marking more than females or adolescents.
Both males and females mature sexually at about three months. Common Treeshrews are reproductively inactive from October to December, with mating season beginning in December and lasting until February.
Following a gestation period of 40 to 52 days, the female Common Treeshrew tends to give birth to a litter of one to three individuals.
Newborns weigh about 10 to 12 g, and are largely neglected by their parents, with females feeding the young only every other day. These babies may even be ignored altogether if they were not marked with scents by the parents.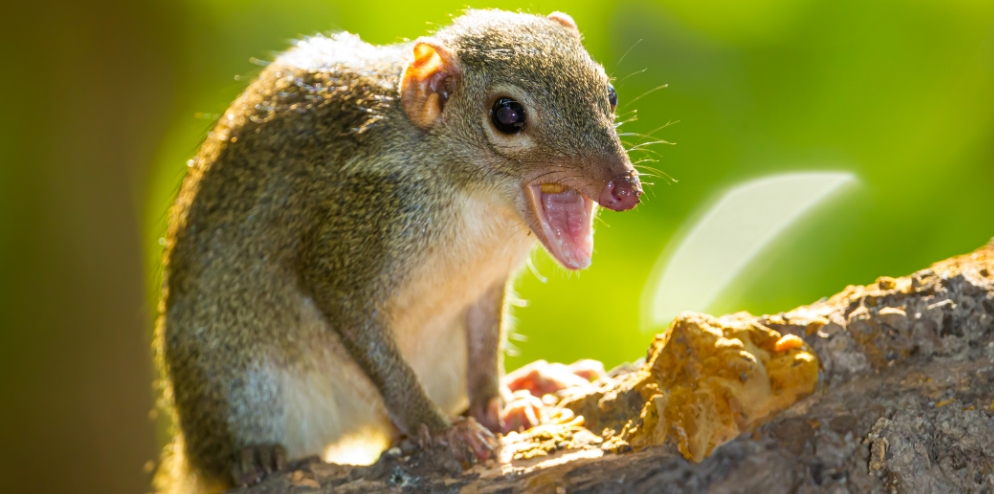 THE COMMON TREESHREW IS AN OMNIVORE WHICH FEEDS ON FALLEN FRUIT, SEEDS, LEAVES AND INSECTS
Juvenile treeshrews tend to mature early and leave their parents' nest after about a month, with juvenile males observed to leave earlier than juvenile females.
Although the Common Treeshrew is currently not in any danger of extinction, it does face threats in the form of deforestation.
This species also faces some pressure from humans, as some may hunt them for food or for sport.