Today is World Snake Day! Beginning in 2013, World Snake Day was created to help shed light on the significance of this animal to the ecosystem, and to try and negate the dangers typically associated with it.
Snakes are generally considered as highly dangerous animals, capable of killing either through biting with their venomous fangs, or curling around prey and strangling it to death. Such beliefs have been reinforced time and time again through scenes in movies and television programmes.
There are over 3,400 species of snakes in the world, which are found in every continent except Antarctica. Yet, only one-fourth of these snakes are venomous and most snake bites occur only when humans disturb their peace. In fact, snakes would actually prefer to avoid contact with humans, if possible, and are only aggressive when they feel the need to defend themselves or are hungry.
Snakes eat many different animals, including insects, small rodents and frogs. Due to its diet, snakes therefore play a vital part in maintaining a healthy ecosystem and environment, keeping the number of rats, frogs and mosquitoes in our world in check. Snakes feed on this prey by swallowing them whole, using their trademark detachable jaws.
In Restorasi Ekosistem Riau (RER), at least 41 snake species belonging to nine families have been identified in our forests, including wart snakes, grass snakes, elapids, vipers and pythons.
Some of the species found in RER include:
KING COBRA
(Ophiophagus hannah)
Perhaps the most well-known snake in the world, the King Cobra is also the world's longest venomous snake.
However, what is lesser known is how this snake mainly preys on other snakes for food, and occasionally some vertebrates like lizards and rodents. Following a large meal, the King Cobra can actually live for many months without having to eat, thanks to its incredibly slow metabolic rate.
Due to habitat loss and human hunting, the King Cobra is currently classified as a Vulnerable species by the International Union for Conservation of Nature (IUCN).
THE KING COBRA IS ONE OF THE 57 GLOBALLY-THREATENED SPECIES IN RER.
THE KING COBRA IS GENERALLY LARGER THAN OTHER COBRAS. TYPICALLY ABOUT THREE TO FOUR METERS IN LENGTH AND WEIGHING ABOUT 6KG.
RETICULATED PYTHON
(Malayopython reticulatus)
The Reticulated Python is longest snake in the world, and is among one of the three heaviest snake species. In Asia, it is the largest snake native to the region.
It is also an excellent swimmer, as it has been spotted to be far out at sea and taking over many small islands.
While this snake does not have venom, it is among the few snakes that do prey on humans, among other mammals. Its preferred method is to wait and ambush prey, before capturing in its coils, constricting and squeezing the life of it.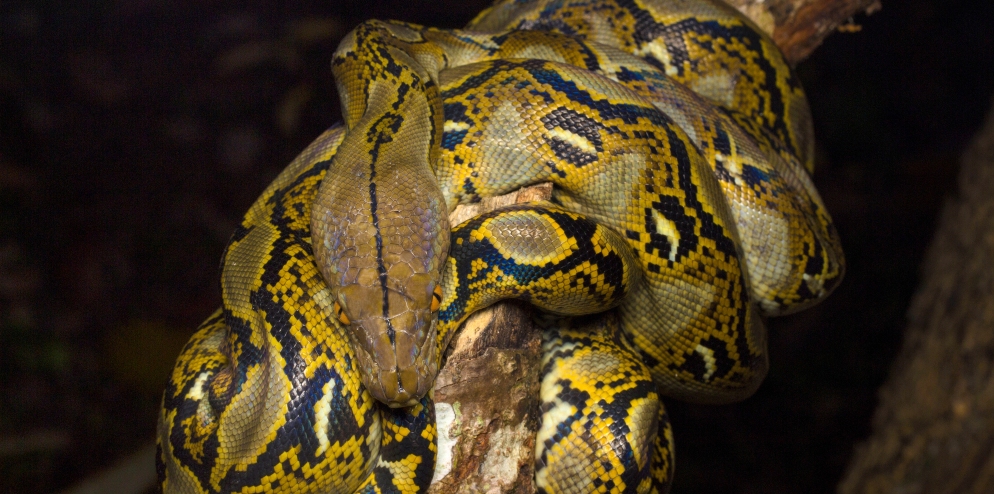 THE RETICULATED PYTHON IS CONSIDERED THE WORLD'S LONGEST SNAKE AND ONE OF THE THREE HEAVIEST SNAKES.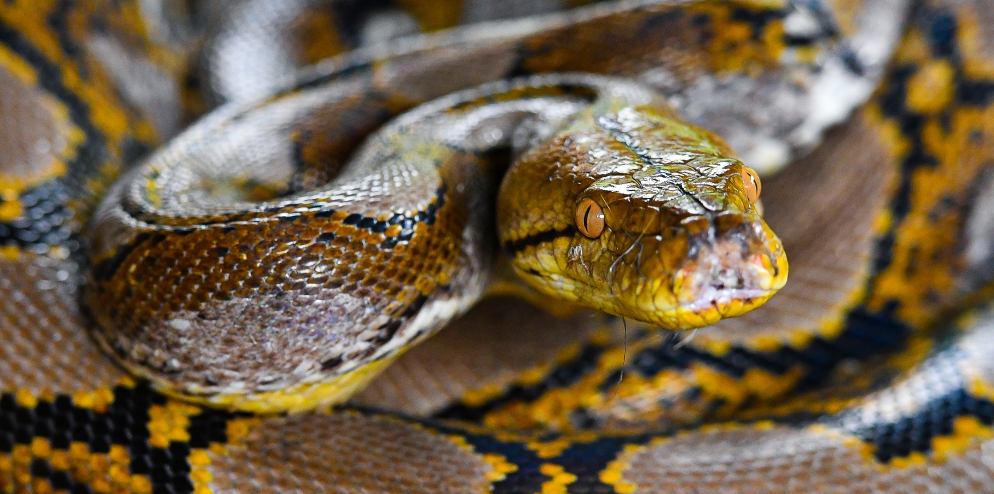 THE NATURAL DIET OF SMALL RETICULATED PYTHON ARE MAINLY RODENTS, WHILE THE LARGER MAINLAND RETICS FEED ON PIGS, CIVETS, AND EVEN PRIMATES
MANGROVE TREE SNAKE
(Boiga dendrophila)
The Mangrove Tree Snake is potentially aggressive and mildly venomous. While envenomation may result in intense swelling in humans, there have been no human deaths caused by this snake that has been recorded thus far.
This snake is mostly active at night, and tend to lie motionless on tree branches during the day. It is a common species found across Southeast Asia.
While snakes are not hunted widely, their numbers are declining, as a result of habitat loss due to deforestation. They are also being affected by climate change, which is also causing deterioration of their habitats as well as a decrease in the number of available prey.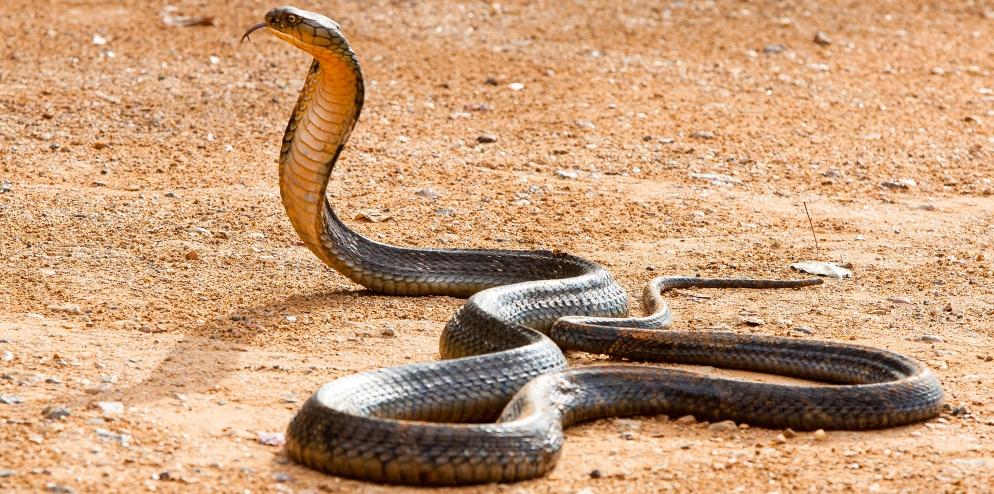 THE MANGROVE TREE SNAKE IS ONE OF THE BIGGEST CAT SNAKE SPECIES, AVERAGING 6-8 FEET (1.8-2.4 M) IN LENGTH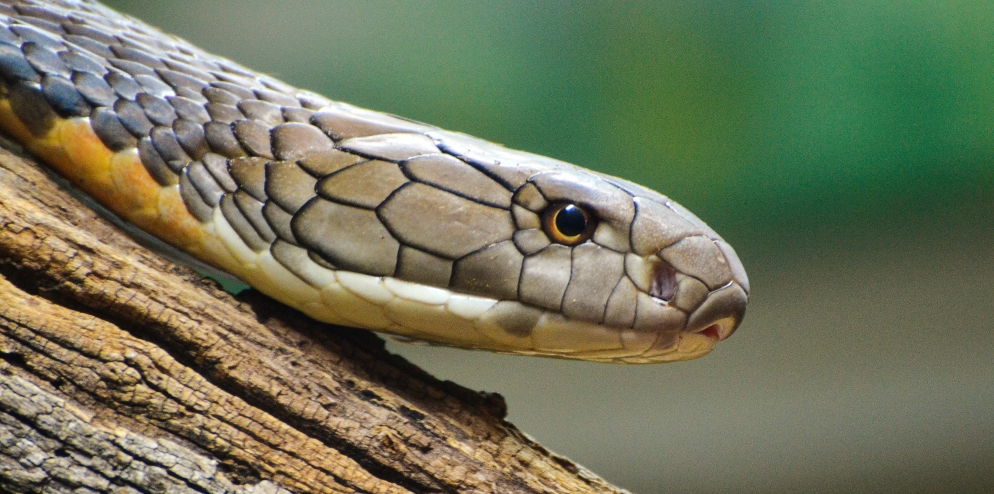 THE MANGROVE TREE SNAKE IS A POTENTIALLY AGGRESSIVE SNAKE. EVEN CAPTIVE BRED SPECIMENS CAN BE NERVOUS AND MAY STRIKE REPEATEDLY