Dozens of indigenous tree seedlings donated by Restorasi Ekosistem Riau (RER) were jointly planted by employees and community members in RW 08 Sangar of Pulau Muda Village during  Employee Volunteering (EV) day on 23 December 2016. 
50 Jabon seedling, 10 Punak seedlings and 7 Mentangor seedlings were planted along the road to the mosque, around people's homes and at the elementary school. Residents and RER employees worked together to clear vegetation and prepare the planting holes for the seedlings. 
Ijol, Chairman RT.02 of the Pulau Muda Village swiftly walked to the planting site, then swung his hoe to make the planting hole. About three minutes of digging, the hole was finally ready to plant a Punak tree seedling.  Ijol said, "the RER Employee Volunteering  tree planting program  is very good for the health of rural environment. The greening program is very nice. See, it was full of shrubs, now filled with tree seedlings. I hope people can keep it," said Ijol on site.
Ijol added, Employee Volunteering activity by RER are often held in the Pulau Muda Village, especially RW 08 Sangar village, and bring benefits to the community. "The Employee Volunteering is often done here. In addition to planting trees, there are other activities of mutual cooperation between the members of the village with RER employees, giving some kind of aid and so forth. But this activity is very different, because it is planting seedlings to produce a future supply of wood for the community," Ijol said.
Meanwhile, Maili, a Sangar villager  supports and appreciates the RER Employee Volunteering activity in his village. He hopes that through these activities people can feel that the presence of RER in Kampar Peninsula is a benefit to them.
"Thanks to the RER management during the past year that has helped many people. There is some assistance from the RER recorded in the Sangar Village. Hopefully RER will remain until the end of time," he said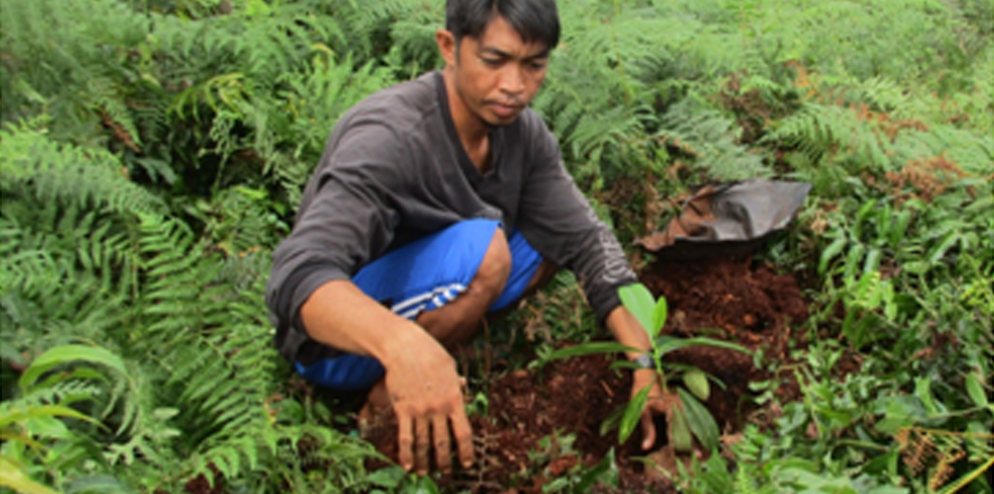 Employee Volunteering is an activity that has become a continuous commitment to care for people who are in the operational environment of RER.
Edy Suprayitno, RER Estate Manager, said that Employee Volunteering is an activity that has become a continuous commitment to care for people who are in the operational environment of RER. This time, our  Employee Volunteering has a little different objective, because the seedlings are for wood production trees.   The reason for selecting Jabon, Mentangur and Punak is that in the future its timber can be harvested and used by Sangar Community. Punak and Mentangur seedlings were planted around the school so it can be used for public purposes such as repairing school buildings or mosques.
"Employee Volunteering  is a priority focus for RER in order to establish a harmonious relationship with the communities that are around the Ecosystem Restoration area," said Edy.
During a  previous Employee Volunteering activity in August 2016, RER provided motorized brush-cutters to the community at Sangar, Pulau Muda Village to control vegetation around their homes and gardens.  RER will continue to work closely with community members to achieve their goal of self-sufficiency and livelihood improvement in harmony with restoring peat forest in Kampar Peninsula.