Meet the Purple Heron (Ardea purpurea), a bird which belongs to the Ardeidae family. Its name comes from the Latin word ardea for 'heron' and purpureus for 'coloured purple'.
Known as Cangak merah in Indonesia, this bird breeds in southern and Eastern Asia, central and southern Europe, and Africa.
The Purple Heron is one of the 304 species of birds which have been identified in the Restorasi Ekosistem Riau (RER) area, where it is observed to be a resident species, as well as a common one.
The Purple Heron is similar to the common Grey Heron in appearance, but the Purple Heron is slightly smaller and more slender, weighing only about 0.5 to 1.35kg.
However, the Purple Heron is still considered a large bird, measuring 78 to 97cm in length and standing at a height of 70 to 94cm.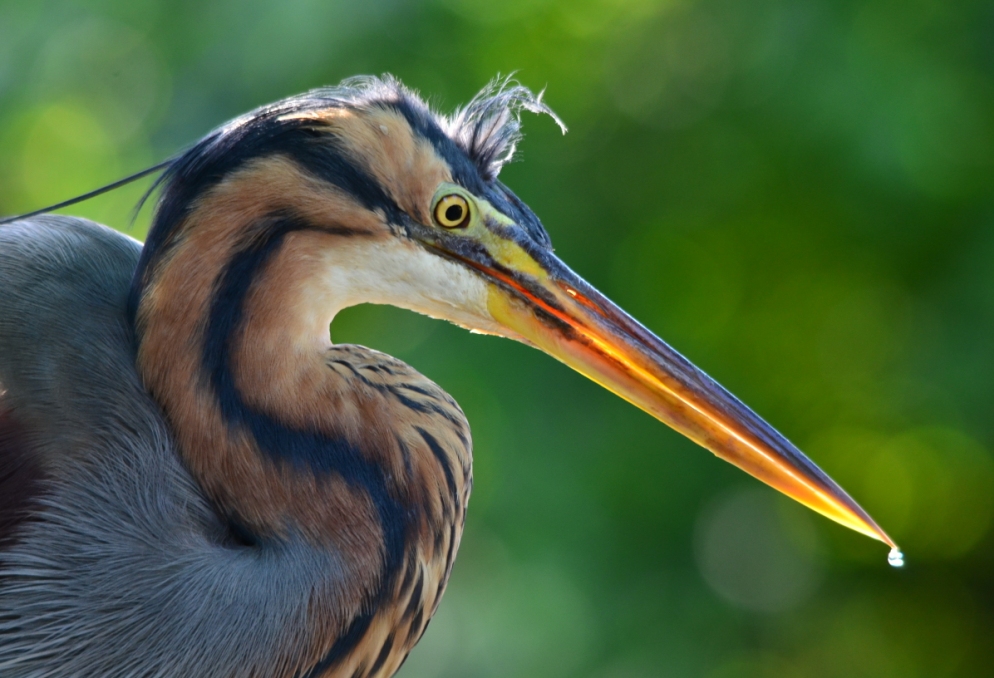 IN JANUARY 2019, THE RER TEAM ENCOUNTERED AS MANY AS 44 INDIVIDUAL PURPLE HERON BIRDS WHILE CARRYING OUT A WATERBIRD SURVEY ALONG KAMPAR RIVER
The Purple Heron has dark reddish-brown plumage, which is darker grey black in adults. The sides of the head and neck are buffy chestnut in colour, with dark streaks and lines going down either side of the whole neck.
It has a harsh call, though this is quieter and more high-pitched than that of the Grey Heron. Generally, the Purple Heron is a less noisy bird. The bird's call is often heard when it is flying or roosting.
The Purple Heron inhabits marshes, lagoons and lakes surrounded by dense vegetation. It may frequent mangrove swamps on the coast but it usually prefers freshwater habitats, particularly locations with reed beds.  Sometimes, it is found along man-made water structures such as canals or ponds.
It is an evasive and secretive species, spending less time out in the open. It rarely perches in trees, and tends to skulk in reed beds instead. It can walk on floating vegetation.
This bird is most active at dawn and dusk, roosting with other birds in the middle of the day and night. It is able to cover long distances when looking for foraging ground. Purple herons which travel long distances together will fly in a 'V-shaped' formation.
The Purple Heron is a carnivore, hunting fish, rodents, frogs and insects, either by slowly stalking them or standing motionlessly among reeds and waiting for prey to show up.
This species usually breeds in colonies, but sometimes the nests are solitary. It builds bulky nests out of dead reeds or sticks close to the water's edge, among reeds or in dense vegetation.
The female bird lays around bluish-green eggs which are incubated by both parents. The young hatch about four weeks later and fledge at about six weeks, becoming independent at about two months.
The Purple Heron holds a Least Concern (LC) conservation status issued by the International Union for Conservation of Nature (IUCN), meaning there is an abundant number of the species.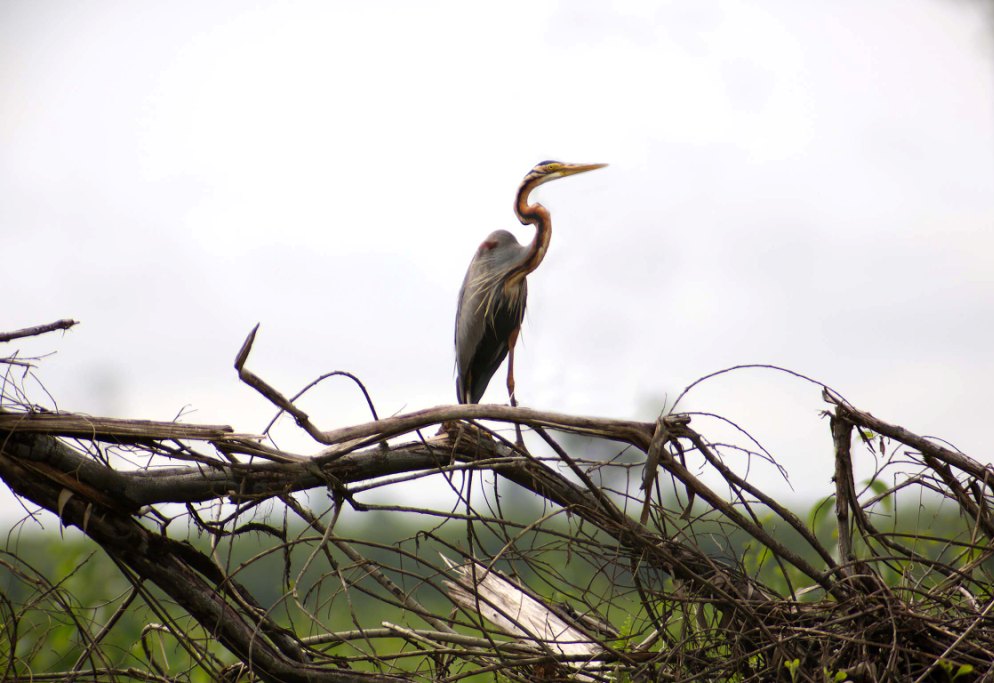 THE PURPLE HERON HAS A NARROW BODY AND A LONG THIN NECK
In January 2019, the RER team encountered as many as 44 individual Purple Heron birds while carrying out a waterbird survey along the Kampar River.
However, the IUCN notes that the global population trend of the Purple Heron is going downwards. Only between 270,000 and 570,000 purple herons are estimated to be left in the world.
The biggest threat to the Purple Heron is drainage and disturbance of if its wetland habitats.
The Purple Heron is one of the 299 species of birds included in a bird checklist which was published by the RER in 2017.
View the full annotated checklist of bird species in RER here.