How many of you had dreamed of becoming a firefighter as a child? Maybe many of you will raise your hand. It is not surprisingly, because the sturdy and tough persona of firefighters are very appealing especially once they wear their uniforms, carry evacuation equipment and riding at the side of red fire trucks.
Even though it looks great, being a member of a firefighting team is no easy task. A lot of responsibility falls on them, especially for teams working in areas prone to fires.
In Pelalawan Regency, Riau, the APRIL Group Fire Prevention team is always on hand to actively minimize potential fire threat around the company's operational areas, involve in the Fire Free Village Program (FFVP), and if needed go directly to the field to extinguish the fires. One of the Fire Prevention teams is also tasked with protecting the Restorasi Ekosistem Riau (RER) forest area on the Kampar Peninsula and Padang Island.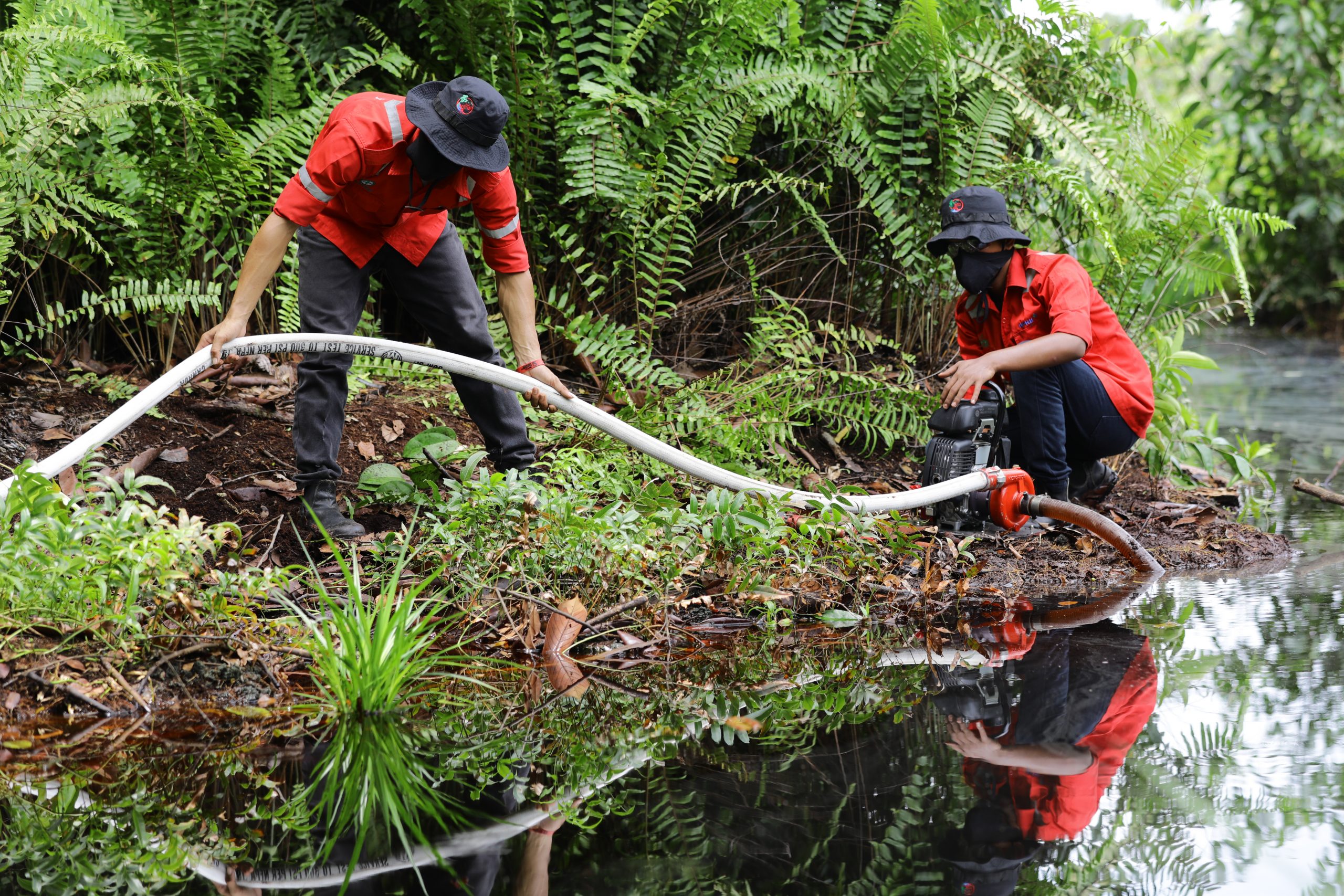 Sourcing water in blocked canals
The RER fire prevention team is focused on protecting peat forest of RER, which cover an area of more than 150,000 hectares from fires. Safeguarding peat forest from fires certainly has its own challenges, and is clearly different from the fire prevention teams that work in residential areas or mineral forests.
In the following, we will try to explain what is the difference between extinguishing fires in peat forest and in mineral soil.
Sources of Fuel
The fire prevention team must have knowledge about the sources of fuel that can cause fires in the area where they operate. The source of this fire is, of course, different in each soil.
In natural peat swamp forest such as in the RER, the fuel source for fire is divided into three parts, namely:
a. Upper fuel, is a variety of living and dead materials found in the forest canopy, including branches and crowns of trees and tall shrubs.
b. Surface fuel, is any above ground combustible material, including dry leaves, ferns, stems, branches, shrubs and organic matter found on the forest floor or soil surface.
c. Bottom fuel, is all combustible fuel locate under the peat surface such as, including weeds, plant roots and other decayed wood material.
In mineral soil there is only surface fuel which is all materials that can be burned above the ground surface such as dry leaves, ferns, stems, twigs and other organic materials found on the forest floor.
Types of Fire
Forest on peat and mineral soils also have different types of fire. There are two types of fires in peat forest, namely underground fires and surface fires. Whereas in mineral soil there is only surface fire.
Fuel Characteristics
As peat is basically organic materials, it needs a careful handling. Fire prevention teams in peat forests like RER must understand how to anticipate the fire spread patterns to anticipate prevention.
In peat forest, there are three fuel characteristics that greatly affect the fire spread pattern, namely:
a. Heavy fuel, which consists of fallen logs, stumps and plant debris that will be difficult to burn but at the same time also difficult to extinguish once it's burned.
b. Evenly distributed fuel, which consists of materials that are widely spread over a specific area. Usually, there is a fuel network that is interconnected with each other thus paving the way for the spread of fire.
c. Very dense fuel, including plants found in areas with very dense vegetation distribution patterns. Usually, this allows the fire to travel to the top of the forest through the branches.
Meanwhile, in mineral soil, the fuel properties are mostly uneven and relatively sparsely distributed, so it is easier to handle.
Water Source
On several occasions, the water supply prepared by the fire prevention team was insufficient to extinguish fires. That is why the team must also be equipped with the information of potential water source before coming out to the field.
In the RER peat forest, the only available water source is in the closed canal, and even then the amount of water is limited because the canal is no longer functioning.
But when fires occur in mineral soils, it is easier to find water source. Additional water can be obtained from local residents' water sources or Industrial Plantation Forest (HTI) canals which are usually used to line each compartment.
Road Access
In extinguishing fires, road access is also an important aspect that needs to be considered. The reason is, when the fire prevention team brings complete equipment to extinguish the fire, you should avoid going through roads that tend to be too narrow.
In peat swamp forest areas such as RER, where forest density is very high, the fire prevention team must first create paths to reach the hotspots. Meanwhile, in mineral soils, there are usually access road that can be used, and even if you have to make new road access, it is usually not too difficult.
By understanding the above conditions, it is possible at first glance that the fire prevention team working at RER is working very hard. However, the actual condition is that the RER forest is very well preserved, so that for more than 6 years there have been no hotspot or fire found.